The problems with SnapMingles.com start when you open the front screen, and that is the place where we start our review, too. You will soon see why, and rest assured that you will agree that this is not a real dating site but a huge scam for luring in innocent people into the casual sex scam. It starts by answering a bunch of questions that don't lead anywhere and then continues by providing a huge scam screen which will charge you over $100 a month. SnapMingles.com will really rip you off in a way you haven't seen for a long time.
Authenticity Of Snapmingles In Question
The false front screen and the huge subscription rates are not the only problems of SnapMingles.com. When you click the homepage link, you get redirected to a bunch of other fraudulent adult dating sites at one go. We got redirected to Well Hello and one go, and, at the second ago we got redirected to Local Milf Selfies. If you follow our reviews, you will have noticed that both Well Hello and Local Milf Selfies have been a part of our list of illegitimate dating sites. These are not pure apps and will never be on the list of legit services. The association of SnapMingles.com with those old-timers of scams for hookup sites is just another proof that we are yet again dealing with a real scam.
Why is Snap Migles.com a Casual Sex Site Scam
There are so many problems with SnapMingles.com, that I'm not sure where to start. The credit card authorization screen by itself presents a bunch of problems. I can tell you a novel about it in the first place, but let's first look into the "free access" that you seem to get which enables hooking up for free. They ask you for a credit card to verify your age – this is the screen that you're getting to see before you register and after you answer the irrelevant questions on the landing page that just redirects to other fake dating sites: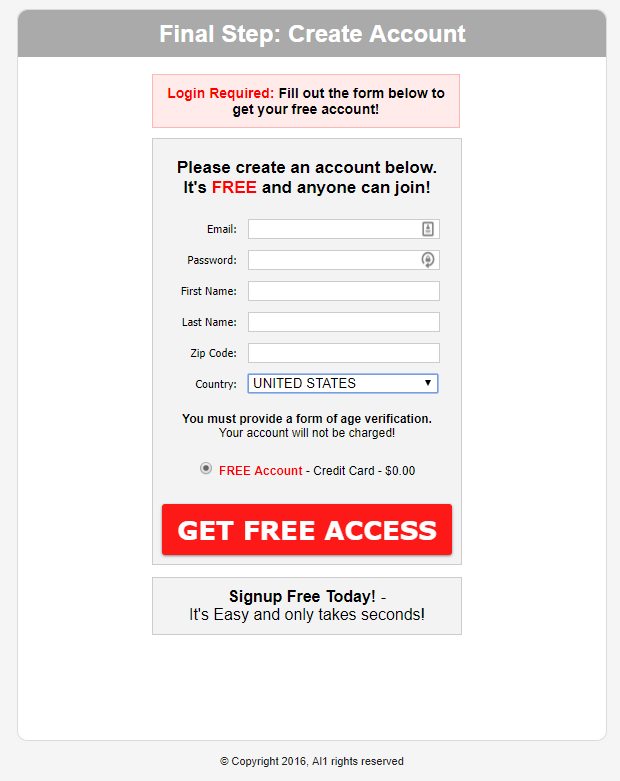 As you can see, they say that your credit card will not be charged. Do you see the extra large is zeroes? However, that is not the truth at all – the truth becomes obvious on the credit card pre-authorization screen. The page by itself is so full of tricks and insidious traps that you will need to be a really experienced dater to catch them all: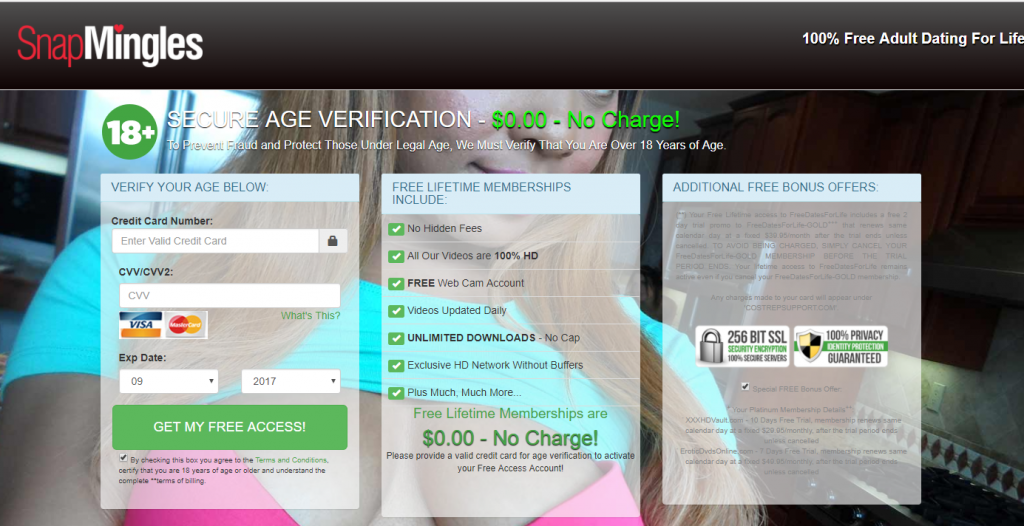 Let's go through the red flags one by one:
Look at the bottom of the first box: Agree to The Terms and Conditions (Including Fake Photos)

Look at the top – Secure Age Verification: No Charge

Second Box: A Bunch of Fake Features to Entice You Into Quick Payment

Again the Fake Promise of No Charge

Third Box: Auto Renewal That Leads to Upgrading Your Trial for a Full Month

Pre-Checked Box for Bonus Offers
Do you need any more convincing?
Price Tag
Depending on the site you will be redirected to, you will be charged the appropriate fees, which are, more or less. the same
Six-month package costs $11.65 per month
Three-month package costs $16.65 per month
One-month deal costs $29.95 per month
Busted or Trusted?
SnapMingles.com is a fake hookup site charging expensive subscriptions for dubious sex dating results and employing a bunch of falsified photos and fake chat messages. Be extremely vigilant when you click in the credit card authorization boxes to avoid being charged for something that you don't want to pay!