What does it take for a UK site to become popular among dating newbies? Call it a site for ads and classifieds and you will see masses of people meeting online to get some good use of the offered content. But – it's not enough to put the adjective "adult" on a website and make it look like a space for hookups. At least not for me! I need a lot more persuasion and facts! So, this is why it didn't slip to me that Friday Ad advertises all types of content to mask hidden escort activities.
FridayAd.com = Complex UK Classifieds
Call girls are not the only "fun" activity you'll find here. Friday Ad is marked as a resource for classified ads in property, cars, jobs, animals, and community areas. Clearly, this is a rotten way to engage as many people to post their ads thinking that they have exceptional chances to score one night stands. Most genuine dating sites don't use this confusing method of mixing more than once service into the same package. We will look more into that later, but for now, let's stick to this one very obvious fact –
Comes Up in Escort Site Search Results

Friday Ad shows up if you go to the Google search engine and type in the words" famous escort sites". Therefore, though there may be people who are genuinely looking for casual dating on this website, there are even more call girls, exotic massage parlors, male and female escorts, and plain old prostitutes that offer their services and that can get you into a lot of trouble. Always keep an eye on the results retrieved from Google when you are looking to get laid. Most good casual dating sites have good reviews or show up under "adult dating sites"
What Hides Under the Adult Tab
I did find the "adult: tab on Friday Ad. But do you know what was hiding behind it? A lot of commercial adult content that includes the following:
Live Cams
Yup – classic cam rooms with tokens, live shows, and striptease shows where you don't get a chance to engage unless you buy tokens and tip the girls. This was extortion method #1.
Gay Male Escorts
If you are looking for girls to date, you definitely don't want to meet with a male escort! Well, gay escorts must find a place to advertise their services, and fake adult dating sites are a very convenient and free place to do so!
Adult Industry Jobs
What is under industry jobs? All that you can think of which includes commercial or paid sexual activities. This can include everything from porn to escort agencies. But, it certainly doesn't include free sex!
Escort Services
The umbrella term "escort services" is a pseudonym for paid sex and all actions that can be put into the mix. It is the final argument in my conviction not to use this website for finding casual dates when I travel in Europe, and especially the UK.
What's Wrong with Friday Ad?
I've listed most of the arguments about what's wrong with this escort site before. But if you need a summary wrap-up, here it is – a variety of fake classifieds packed under dubious names that, generally speaking, must be paid for!
Friday Ad Summary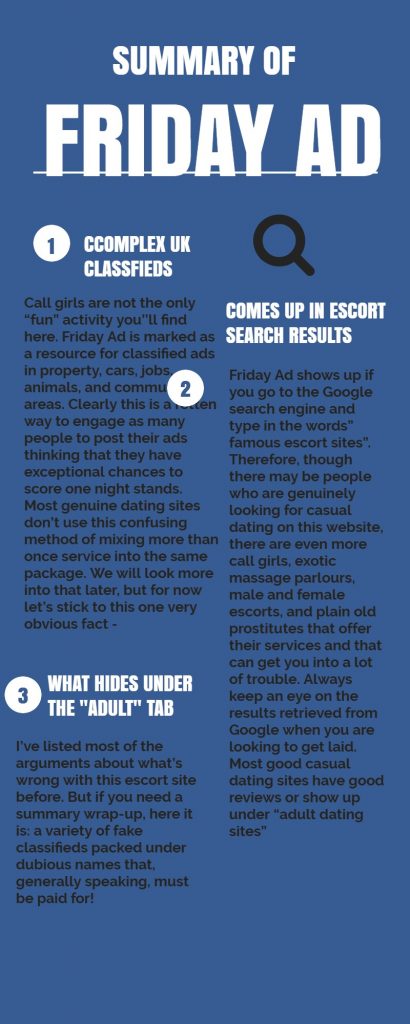 Final Thoughts Again: The website sounds like a headache and a half if you ask me. My advice would be to stay away and not use it at all. Dealing with fake classified ads is a pain in the ass and something that I personally choose to not have to deal with, honestly. Want to get laid, just bang someone here and thank me later.