From what looks like a Swiss domain, I've come across a US related website for escorts with a weird name. This Rs-Avs.ch review will elaborate all the good, the bad and the ugly of the site. By its end, you will be able to tell if you like spending your money on it. Since you need to pay money to become a verified member, I really don't think this is a good option for checking your online dating success. Here is how Rs-Avs.ch works.
Listings and Map in the Rs-Avs.ch Reviews
The preferred locations are in major American cities, but that doesn't mean you don't need to use other locations as well. Escorts place ads and members search them by clicking on a US map or on the worldwide map. It depends on what's your nearby location. Use the map to find a model located closely or search by using ad placements. In-depth information is available via the girl's website links.

Some of them even include professionally produced videos, which tells me that the site will have juicy prices. Unless you want to spend a small fortune, I suggest you find a better (read: cheaper) resource to get laid. Did you know that you can do it for free?
Discreet Screening and Verification
Girls are verified by submitting their personal info. But what was weird for me in this Rs-Avs.ch review, is that they require the escorts to pay for verification by submitting credit card info. On top of the ad prices, girls pay for the verification, too. One good side of this is that the verification seems more credible.

Members can also get verified for a certain fee and get the status of a genuine member.
Videos and Links to Personal Websites
As mentioned above, escorts are quite exclusive, which means that they change fees in the upper range. The upper range can move up to several thousands of dollars per night, excluding overnights, travel, and gifts.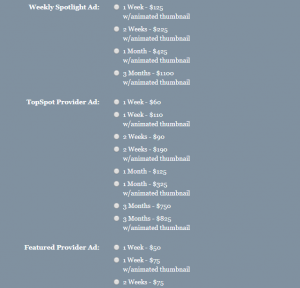 Costs for Placing Ads on Rs-Avs.ch
Another reason for me to believe that Rs-Avs.ch is a rip-off is the section for ad costs. There are several ways to advertise services as a provider on Rs-Avs.ch, and none of them come as cheap. If you calculate how much a model needs to get paid for verification and advertising, there is no cheap way out of this website.

Rs-Avs.ch Review: Final Verdict
The site is professionally done, but in the world of people who are looking for free hookups, that can turn out to be a disadvantage. You as a user will be the main cash point to cover for all those expenses that pile up from using fancy verification and advertising features. Girls' videos are worth looking at for sure, but they don't come at a cheap price if you want to meet them for real. One of the best ways to find kickass casual dating opportunities is still to join a free adult dating site.
Heck, let me remind you once again that this on Rs-Avs.ch, rs2k, roomservice2000 or whatever you want to call it, you will not get laid for free. It's going to cost you a ton of money and my guess is that you'll eventually end up sick with some disease or just disgusted with yourself for your foolish actions. Use a 100% real dating site and call it a day.