This Sky Escorts review is about getting to know more about the sex life you can have on free casual dating sites and on escort sites. It's critical to make a difference since many services that are in the escort realm look a lot like casual dating sites. Sometimes, they even mix both services so it's easy to get confused. Sky Escorts is all about the on-call paid sex but there are plenty of links to third-party providers and sex toys. I must admit that they are a crack since they've included a pretty neat Halloween pic on the website domain.
Otherwise, they're boring and standard. However, judging from the Sky Escort reviews included in the review section, things seem to get exciting once real dates happen. If you are up for paying 1 or 2K per hour for such an experience, be my guest. You know what's the other option!
The Know-How of Sky Escorts Reviews
The website is bursting with ads. I can say that there is a lot of space dedicated to eye-catching banners. So whatever company advertises on SkyEscorts.com will have good chances to get noticed. The thing that stroke me the most are the escort reviews. If you want to know how to do good reviews, you should read that section. They are also quite positive. It looks like the site has a good track record with its customers. Judging by what others have said, the service is more of a hit than a miss. Here are a few snapshots of the most popular girls that have been reviewed:



Independent Escorts
The number of independent escorts is decent, but I think that the number of agencies is bigger. Independent girls are cute and sexy. Picture albums are of good quality, not disclosing the face of course, which is blurred. But you can definitely see the body and read more about the escort services on the girl's profile page.

Huge Rates
As I've mentioned more often than not, skyrocketing rates are a big problem on escort sites, making them incomparable to free dating services. For instance, a hot escort performer ranked well earns somewhere between $1,000 and $2,000 for a couple of hours spent in their company.
SkyEscort.com's Classifieds Ads
The classified ads include a little bit of everything. There are three filters you can use to search for what you want – "offering", "looking", and "all". But it doesn't matter which filter you choose because the number is very limited. There are less than a handful of ads. The good thing is that you'll avoid ad scammers and fraudsters. The bad news is that you don't have plenty of opportunities for getting a spectacular sex life.

Agencies
There is a long list of over 40 agencies. It would be too much to name them all in this Sky Escorts review. But I can tell you that many of them in the UK (at least the top results) but also worldwide. You can also search for independent girls and agencies by location, using country filters.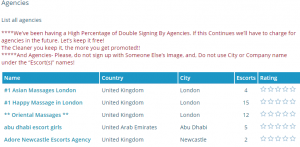 SkyEscorts.com Review: The Bottom-Line  
Looking for a decent-to-average escort site? SkyEscorts.com can meet your needs. Have thousands of dollars to spend on sex? Go for it! Don't care about how you get laid? By all means, use this site. But if you are looking for something cheaper (meaning: free), casual AND hot, there's no need to waste your money on escort websites. Just be a bit more persistent on free hookup apps and you'll get there.