We've had it over our tolerance levels here at Adult Dating Patrol – HookupGirlfriends.com is just a scam that will try to sell you cam services on top of the basic subscription, while, at the same time, annoying you with messages from fantasy profiles and constant prompts for upgrades. The girls look cute but they are either fictive or "to be paid". This is not the online heaven for a casual girlfriend but a fraud nightmare that may play out really bad to your finances if you are not open-eyed all the time.
Authenticity
The regular practice of virtual profiles is taken to a new level here on HookupGirlfriends.com. Nothing on this site is free, so, if you are thinking that you are registering for a free-of-charge service for meeting people to hook up, think again – this is a place full of popup notifications and chat alerts from cam girls or golden members. Have a look at the screen with online members that shows up when you register. There is no chance to find a girl to talk to for free. As a matter of fact, the cam girls are at the top of the screen, so you may easily fall for one: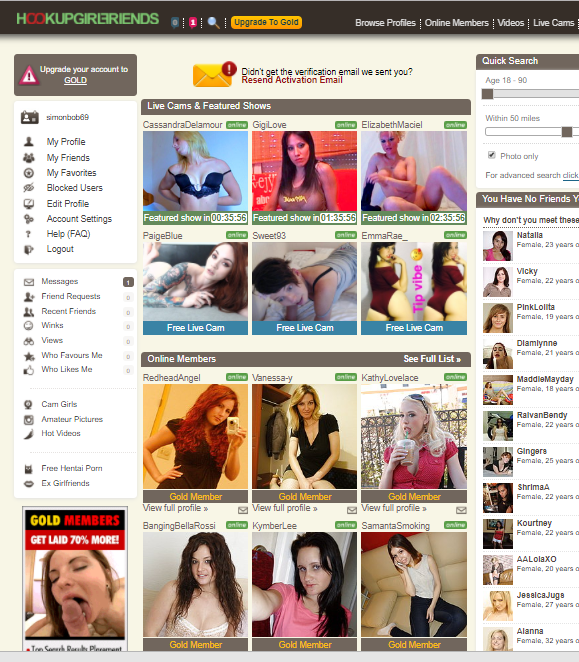 It is a double-edged sword. In any case, you must pay.
Why is HookupGirlfriends.com a Fake Dating Website
There are three main factors that wriggle the things when you join HookupGirlfriends.com
#1 – Information Collection 
Here are the reasons why this should bother you:
You can be identified via your name and email address
Your information from a mobile location may be sent to global networks
Standard collection of info via cookies
Financial information is on file
The site collects and keeps your gender, age, demographic and hometown info
Your information is shared across the networks and social platforms
Your contacts, location, WiFi access points, as well as Android/iOS services details may be shared with the site
#2 – Safety
Your safety and privacy are under your control in full, so if you decide to register make sure that you are aware of the following points:
You are responsible for your posts
There are no background checks or screening or members
There is no help or mediation on behalf of the site when you are having an issue with another user
#3 – Use of Fantasy Members
HookupGirlfriends.com uses virtual profiles called Fantasy members that send computer-generated messages, so you are not dealing with real persons but with computer bots that might be placed by the site creators or by third-party contractors. They also spy on everything you do, so there is no real getting laid with them. Here is a screenshot from the Terms and Conditions to verify that:

Your mobile device may pose an additional risk.
Because it uses mobile networks and special app stores that have specific rules, your smartphone may be another problem that you have to take into consideration:

Price Tag
2-day trial membership is $1
1-month gold membership is $29.95
3-month gold membership is $74.95
6-month gold membership is $119.70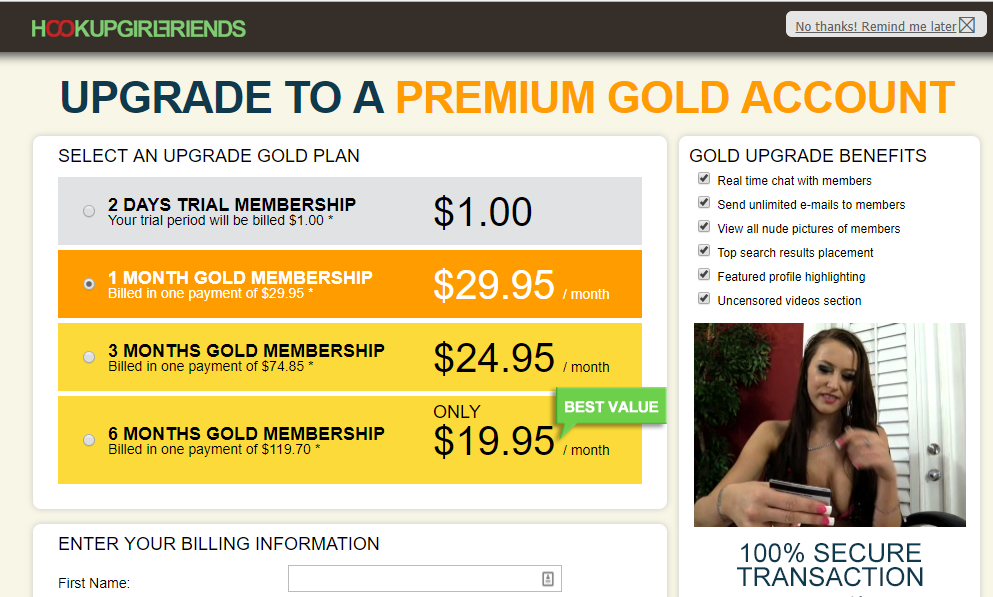 Busted or Trusted?
I wouldn't give my trust to HookupGirlfriends.com. I don't want to get duped by cam girls or fake profiles thinking that I am chatting with a sexy girl. Instead of finding a cute date, I had to guard against constant pestering of these online gold-diggers.