Sometimes the world of adult work has its own dark corners. That's what many people call sites such as SinSearch.com. Though I don't have anything against people doing all sorts of stuff as long as it's legal, I sure do mind when escort, call girl and dominatrix sites to get listed in the same directories as adult dating websites. I wrote this Sin Search review to help you distinguish another type of services from the rest of the average casual dating sites.
This SinSeach.com Review Rocks!
I may have heard this sentence once or twice from my followers, especially from those that are into this stuff. (This is a common discussion topic, it's not that I meet with it for the first time!). While I'm glad I've made someone happy, I don't recommend this service to casual daters who are looking for another sort of fun.
Okay, at least to needs to be free! But SinSearch.com is definitely not free. On the contrary, it's quite a ripoff, although if you ask the creators of the site they will say something totally else. For instance, in the FAQs, they say that models who advertise must not mention payment for services. Yeah – right, just hope for all of that to be free!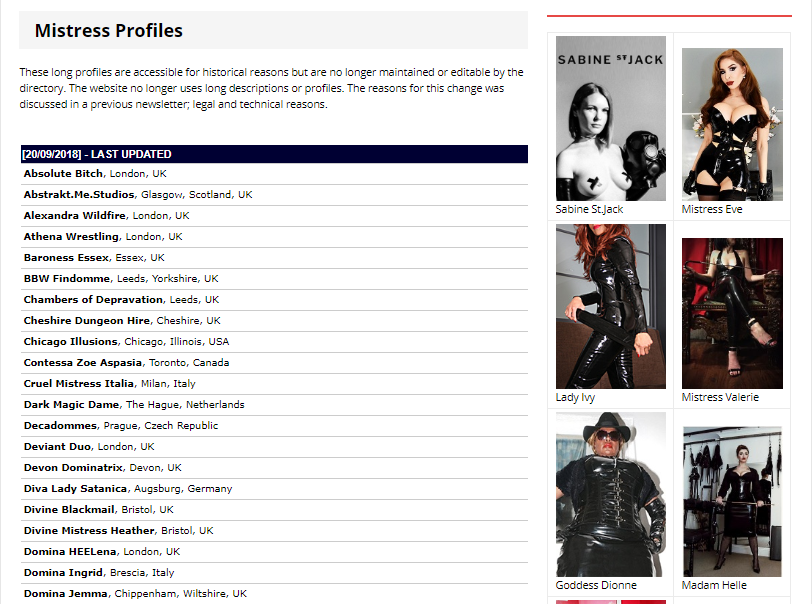 Anyway, let's find out more about what's at stake here by reading more about these paid services on SinSearch.com:
UK Escorts and Mistress Profiles
From what I've noticed, most of the dominatrices are from the UK, mainly from the London and the Manchester areas. There are featured profiles, as well as the main listing. There is also an admin listing, but that one has nothing in it, which tells me that the website is not in full bloom yet. This is a good thing for you to avoid larger scams!
Worldwide Tour Info
Some of these dom models make tours and publish their itineraries to find new customers. This usual practice of escorts is not so prominent on Sin Search.
Amsterdam Movie Teasers
This is a promotional specialty of the site, one that just had to find its place in this Sin Search review. Girls post video teasers dressed in latex and other dom-related clothes. I named this section Amsterdam teaser to point out the connection to the video from the below screenshot, but there are other chicks as well. The teasers also aim at advertising the girls' services for money.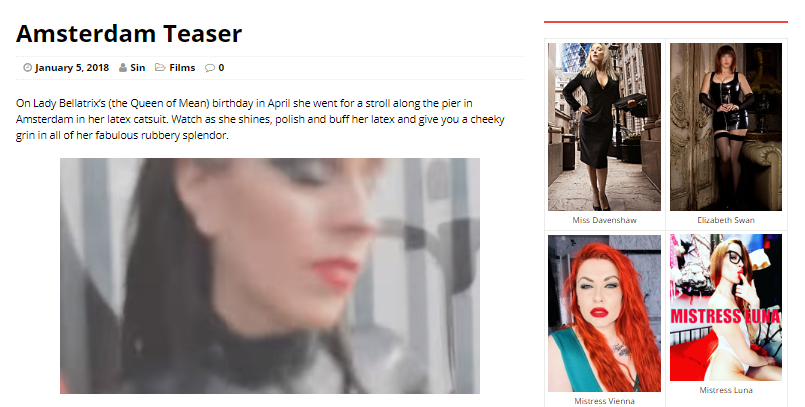 Sin Search Review: Final Verdict
Overall, SinSearch.com is not something I would recommend to my usual army of followers. As you probably know, we are looking to get laid for free and not pay for sex. But since I've started reviewing these escort sites, I have to keep an eye on them more. I sometimes encounter specific niches such as this one. I guarantee that you can find even some special dom girls if you look carefully at the best adult dating sites on the web!