If you miss Backpage, you don't need to look too far. Here comes a carbon copy of this website and it's misleading alternatives Bedpage and Backpage.net. I've compiled this EBackpage review to help you avoid fraudulent sites for classifieds where you won't find anything else but missing categories, suspicious links, and weird cam links. Don't expect to find you dream hookups here and beware of scammers that are just waiting to place and ad and rip you off in any way they can!
Don't Need This EBackpage Review to See a COPY!
If you have a look at my Bedpage and Backpage reviews, you'll quickly conclude the same I have myself. You don't need to be an adult dating expert to reveal the tricks of this crooks because they are so obvious. Especially when done over and over again! The page is almost the same. In fact, when I was checking the "Post Ad" section, the prompt in the HTTP redirected me to the Bedpage login. So, yeah, this is just a poor attempt to revamp the notoriously closed Backpage by copying tit under a new domain name.
No Ads for Adult Dating

I went directly to check the category of interest – adult dating. There were no girls in my location. Therefore, this is just an advertising platform that takes money from poor souls who think they can find something decent in such places. I repeat – this is NOT an adult dating site and don't waste your precious time here at all!
Plenty of Ads for Cam Websites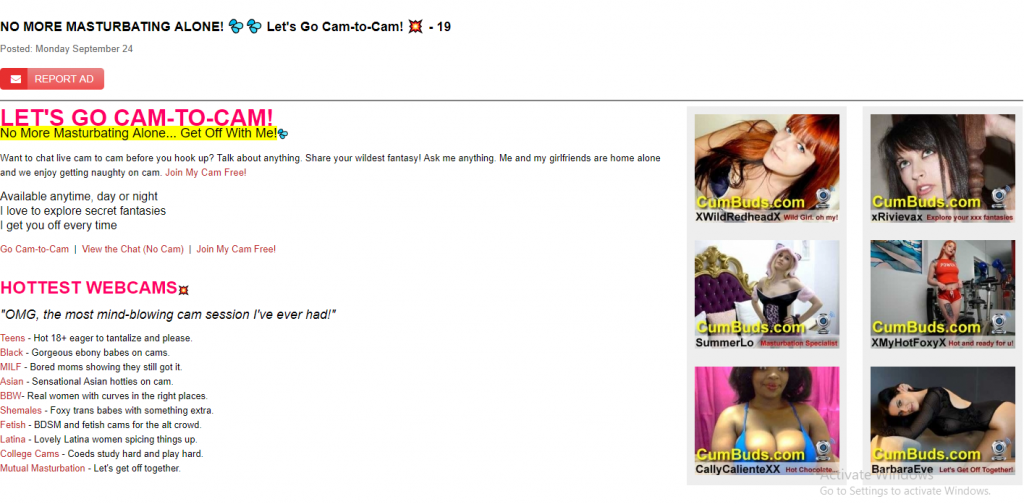 As I expected, this was the link-packed area. Regardless of the location you are at, you will be taken to a list of cam websites. Their message is "Let's not fap alone"! You're damn right I don't like fapping alone because I prefer getting laid on the best adult dating sites listed on Adult Dating Patrol.
Nothing Under Auto Parts
For curiosity purposes, I tried to find local listings for some spare vehicle parts and accessories. Again – nothing showed up in my area. I can't reveal my exact location, but let's just say I live in a large city with several million people and I would definitely expect to find some BMW car parts here!
Backpage Replacement
Obviously, this Ebackpage review verifies my initial suspicions that the website is just a Backpage replacement. You don't need to look for plenty of proof because the site is a proof for itself! Just scroll down to the bottom menu and you'll see that the site uses keywords and links associated with fake classifieds directories. Go and check it yourself, it's so simple and easy to do so!
Verdict: Ebackpage is Identical to Backpage!

Apart from the Bedpage login, I base my verdict on the fact that the format and the features of Ebackpage ae a xerox copy of its counterparts that ceased to exist or continue under close name alternatives. Finally, the lack of ads that interest me makes me confident to conclude this Ebackpage review with the words: "Stay as far as possible from fake classifieds!"