I decided to do this AdultWork.com review to clarify some of the confusion for first-time visitors of this adult conundrum. I tackle mostly adult dating sites but when I find a scam gem, I have to give it attention and help my users avoid being duped. After that, if you proceed to use some of the services, it's your own responsibility. Make no mistake – there's plenty of risk on this poorly functioning escort and webcam site.
How Many AdultWork.com Review Categories Are There?
This is the biggest problem with AdultWork com. You can find all sorts of sex work. Even I had troubles identifying all dangers that lurk from every corner – read – link, ad, and service. I really needed to do some digging to excavate all the dirt. If you look at the top menu, you'll think: "That's it. This is the final list!" But you won't be right! There are categories and subcategories that will play tricks. It will be difficult to count them all. Here's what I found on AdultWork.com:
Phone Chat

SMS Chat

Webcam

Escorts

Alternative

Movies

Pictures

Blog
Many of the above menus are partially unavailable or dysfunctional. At one moment you get access and the next one you get lost. I encountered all sorts of typical scams on escort sites like putting classifieds and escorts in a mixed bag of services. If you read just the ad description you won't be able to identify the contents and the category. You must pay detailed attention. Another problem is that people post whatever crosses their mind. So there are room rentals and hairstyling services. Overall, the site is pretty weak with escort adverts, considering the number of services.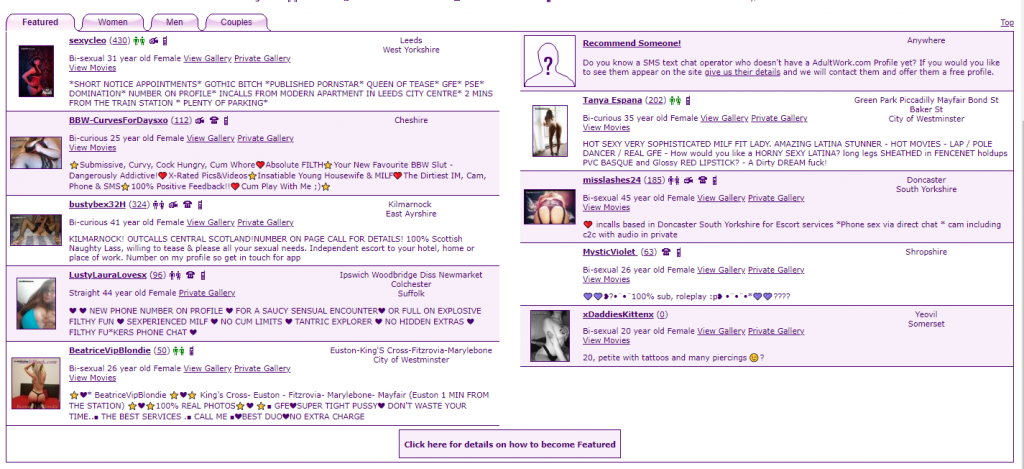 Links to GaySwap.com and Swingfree.co.uk
Maybe these links can find their audience but that's not the audience of Adult Dating Patrol. My followers search for casual dates and they want different variations of free sex. In fact, these links are listed as subdirectories and carry almost equal importance for the site's performance.
Featured Profiles?
I assume that there are only so many profiles under each category because not many call girls advertise on AdultWork.com. Additional AdultWork.com reviews I found on the web don't speak favorably about this service. If you browse categories, you'll see that most of the girls are found under more than one category, This makes me think that the "featured profiles" tag is just a trick for justifying the lack of available escorts. Not that you want to use any of them!
Feedback from AdultWork.com Says Stay Away!
For a site that has so many bugs, crashes, and poor performance, I'm stunned it manages to survive at all. But I guess there are always people who look to put their services out there in more ways than one. The half-hour I spent on this website investigating it turned out into a nightmare of live system notifications about its poor performance. I will wrap this AdultWork.com review by saying I do not recommend it at all, even for fun browsing!
That's pretty much my take on things at the Adult Work website. I hate to leave things on bad terms like that so I won't. Instead, I'll give you a solid pointer which is to read more updates on my site and wait to take action.