Even if you don't know a word French, it's not difficult to recognize what stands behind the name of this fake website. PlaisirExpress.com is about express pleasure. We all know what that means in the world of adult dating. But, whether express hookups are really available on this French-related website, that's a totally different question. We have many facts to prove that the opposite is true.
Why is PlaisirExpress.com a Deceitful Dating Site
This site is a product of Together Networks, a company that is associated with another fraudster business – Bulova network. Now, if you go and do a small search on this review site, you'll find out that we have included many of their copycat sites in other reviews. It is not the first time to describe their dirty methods. Relentless to continue repeating the fraud, they've found a simple way to multiply the sites and fool new people.
Date Booster Packs Triple-Charge the Same Subscription
The date boosters are presented as a special treat for good-standing customers. In fact, they are just a rip-off trick for charging you the triple price of a basic subscription. If you read the description for the service below, you'll notice that if you get a date booster pack, your chances for hooking up increase because your profile will get a nudge to the top on multiple websites. You will need to pay triple the price for three websites for example, and get access to the same services! How is this possible, you'll find out in the next section.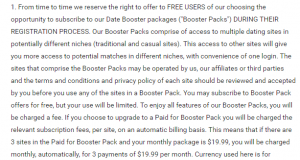 Duplicate Websites to Support the Date Booster Fraud
PlaisirExpress.com develops a network of websites, using the same pattern for all of them while changing the audience and the design. The members remain the same, all of them. So, when you pay the triple price from above by getting a date booster pack, you only get access to the same members' database, nothing more. How about paying the price that's not even worth the basic amount three times more?

Dozens of Poor Reviews
It seems that there is an online agreement that PlaisirExpress.com is not a great dating site. If you had any doubts about the opposite, these review snippets can help you finally make up your mind. Nothing good comes out of this deceitful dating site. Quite the contrary, if you browse through all these reviews, you'll find out plenty of information that was not mentioned in this main review.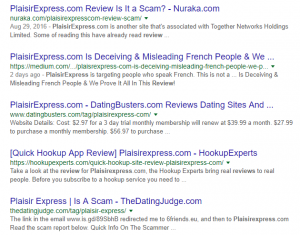 Fake Trial Version: Watch the Renewal Due Date!
Here is another aspect of PlaisirExpress.com scamming methods. They offer a trial version for $2.97 to test the site. However, this trial automatically renews for a monthly subscription. On the other hand, when you want to cancel a membership, you have to do it three days in advance. As you can see, there is just not enough time to cancel the trial. You'll be charged anyway for the monthly subscription. So, don't hope for a trial version because it's not real.

Price Tag
3-day trial costs $2.97, renews at $39.99 a month.
1-month membership costs $27.99
3-month membership costs $56.97
6-month membership costs $95.94
Busted or Trusted?
You can try PlaisirExpress.com if you think that the above statements don't count. But, we hardly believe that you will get yourself into such kind of mess if you carefully followed the above comments. French or American, when it comes to hookup frauds, people are the same all over the place. Be careful not to be one of them!