NaughtyFlirt.com com is an adult dating site for casual daters looking for an NSA relationships and off-the-hook flirts. Will they find anything like it here? From the review we have performed on NaughtyFlirt.com the chances of getting laid are slim. This hookup site uses marketing tricks called Date Boosters for scam purposes and will trick you into buying more memberships on nonexistent websites. They just seem to think of inventive ways for ripping people who created profiles off and delivering nothing. If you are that person, read below to find out more about what awaits you.
Authenticity of NaughtyFlirt.com
NaughtyFlirt.com is a site associated with the Bulova network. They are specialized for offering hookup services for people who like dating others for casual fun. The commercial design of their websites is pretty good. It looks like the worldwide exclusive resort for finding someone to get laid if you are adventurous. How much of that is true it is very difficult to predict. But the fees are definitely not cheap, and if you are not aware, you may end up with a lot of dollars taken out of your pockets.
Why is NaughtyFlirt.com a Deceptive Dating App
There are many reasons that do not provide assurance in the genuine nature of NaughtyFlirt.com. Not sure if there are people who are looking for genuine sex dates. The online community is messed up and you should be careful who are you considering to date.
NaughtyFlirt.com Works with a Network of Websites for Bulova

When dating platforms and apps use this trick they create a number of attractive home pages to attract new visitors. Also, they give them sexy-sounding domain names that attract the right dating community. So, naming a site NaughtyFlirt.com is very sticky for the interested customers who like NSA dates.. Some other members may prefer another sexual community. Yet, they end up joining the same space because the members' database is all the same on all websites or hookup apps. You can find your details on another site, even if you didn't register for that one.
You Will Receive Marketing Offers Called Date Boosters and Activity Alerts
The point with these emails is not only that you will keep cleaning your mailbox, but that sometimes fake messages get mixed up with the real ones and you end up chatting with fake profiles Since you are giving NaughtyFlirt.com unlimited rights to send and manipulate your messages with the options for Custom and Promoted Messages, you should be careful how are these channels used to avoid nasty deception.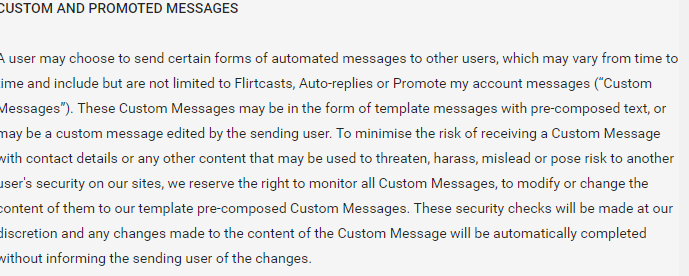 NaughtyFlirt.com Sells Plus SMS Services
Aside from the main subscription уou get the option to buy SMS if you are a premium customer in Australia. The hookup app includes some explanation about the charges of the subscription and the purpose of the SMS but there is no explanation whatsoever about how will this be used in the membership. They are used for specific services. Make sure that you remember the site works on the basis of automatic renewal billing

Your data is collected and shared for the marketing efforts of the app and the network of websites. All your private information becomes a property of NaughtyFlirt.com so play it low key if you want to keep your intimacy for yourself.
Price Tag



$3.18 to buy a 3-day trial subscription 

$24.49 to buy a 1-month subscription

$48.99 to buy a 3-month subscription 

$83.94 to buy a 3-month subscription 



Busted or Trusted?
Although we can't say that you won't find a real person on this app, there are for sure indications that NaughtyFlirt.com is not 100 percent clean. It is just placing a lot of suspicious paid features to get a lot of money from the people who join and like finding sex dates with man and women looking for one-night stands. Check the site yourself, but be careful that you don't spend too much money for something that you don't need.