If MySecretSexContact.com is the hookup site that will bring you "fancy sexy flirting", "thousands of new men and women" and extending your social circle or challenge and excitement, then your hookup chances are destined to fail. All adult dating sites produced by Festivus Media are very suspicious and none of the reviewed so far has presented as genuine. They all have the hots for sites labeled "secret". Probably because many people like keeping it low when they date. However, that does not mean you should keep it quiet when you are fooled!
Review of MySecretSexContact Site
With all these wonderful promises, it is no wonder that MySecretSexContact.com is fooling its users. Is it true that this is what you will get on MySecretSexContact.com?
More Passion in your Life

Safe Flirting

How to Get Started Guide

Sex Contacts for Everyone

Over 500 Members Online
Not so. This adult dating app works with fictive profiles, paid credits and a network of websites that aim to scam as many people as possible.
Why is MySecretSexContact.com a Bogus Hookup Site
Let us go step-by-step through the steps to confirm the deceit of MySecretSexContact.com:
Festivus Media Makes a Business From Casual Sex Marketing
This company belongs to the group of companies that work with scam adult dating sites as a long-term business. Actually, 95 percent of the hookup sites are false and that does not make MySecretSexContact.com exclusive or unique. It is just another addition to a huge scam:

Credits Are Charged for Messages & Winks
When you register (allegedly for free!) you get one credit to send messages to other users. But, do you know, how many messages you can send with that one credit? One! One message or one wink.

After that, you will need to purchase expensive credits which have their own limitations:
Credits enable you to send messages, 1 credit equals 1 message or 1 wink. You can buy a bundle of credits using creditcard. You can choose the credit bundles listed below.

The User can purchase extra Credits via the Platform. The prices of these Credits are shown on the Website and can be adjusted by Festivus Media BV at any time.

Purchased Credits lose their validity 12 months after they are purchased. When spending Credits, the Credits purchased earliest are spent before Credits purchased more recently.
MySecretSexContact.com Uses Fictive Profiles
As you may be already aware, this is the biggest problem on fake adult dating sites: fictive profiles that impersonate real women. Tha fact that they admit this practice in the Terms of Use does not make it very helpful or justified:

Your Profile Data is Kept in a Central Database of More Hookup Sites
Normally, when the casual sex scam is a business, you can expect more than one website on the network. This is the standard practice of fraudulent businesses so don't be surprised when you see your picture or profile data on another network that makes money from your personal details:

Price Tag
Subscription costs are charged in credits, in bundles 8, 25,50,100 and 300, in the range between £7.14 and £219,14.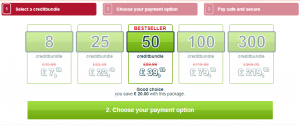 Busted or Trusted?
Any adult dating site associated with Festivus Media should be taken with vigilance and consideration. They work with multiple catchy names for websites, always sell commercial credits (otherwise the communication is impossible, and use fake girl profiles to create entertainment for poor opportunities for real sex dates.