When we investigate adult hookups sites and apps, we meet often with the same type of scams that are used by one company that replicates a website across a network of various domains. They redesign the front page, change a few bits about the concept, and the new lying service is complete. Honestly, it wouldn't take more than a few hours to recreate such a site, so you can imagine how rotten are these scams. And still, many people fall for them because the Internet is one big place with different people. There is always someone else to hook the bait. Today's scam review includes the MeetnFuckApp.com. This service abuses user's trust by enticing them with fake girl profiles.
Why is MeetnFuck.com a Fake Dating App
We wanted to see if all fake stuff related to the Love Stars scam find their place on MeetnFuckApp.com, too. This site uses a bit different pattern, which can be even more successful because you can't notice it right from the start. For instance, we have reviewed dozens of sites by the same company, but this one has some unique features. We needed to dig in a bit deeper to find out that the identical scam was in question. Let's see how they pull off this one.
Step #1 – The Free Access Trick After You Fill Out a Survey
After deciding to register, you will need to answer a few hookup questions. Some of them include answers to the questions like "Are you over 21?", "Do you plan to keep user's privacy", and "What age are you interested in?". When you are done with the questions, you will allegedly qualify for free access, which is nothing else but a bait to get as many people in. The permit sounds like something special. In fact, everyone gets it and can start looking for dates.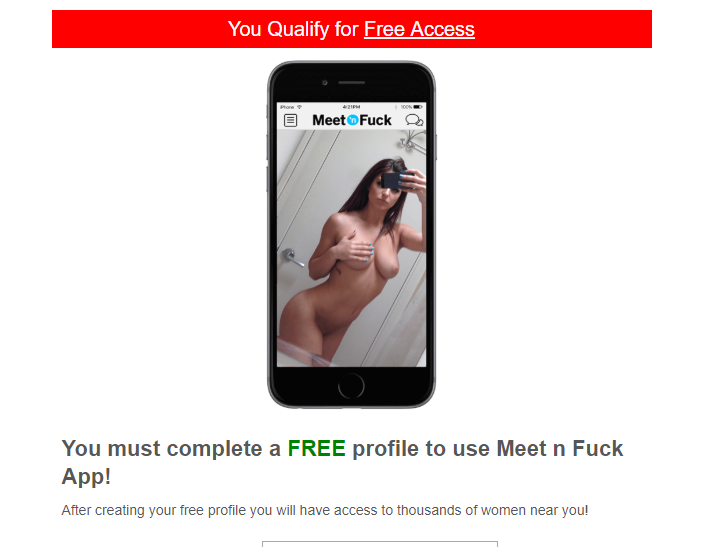 Step #2 – Do You Read the "Terms and Conditions" on Dating Sites?
If you don't you will soon start to inspect them in more details. After you get the free access, you need to provide some additional details, like a username, a password, and a date of birth. But if you are too busy filling those out, you can skip the small checkbox below which elaborates the details on MeetnFuckApp.com and what you agree to. If you read the text below, you will notice the small addition "Love Stars" next to the usual website regulations. Now things get more interesting as it becomes more obvious that MeetnFuckApp.com is nothing else but one of the many fraudulent dating services that use the "Love Stars" concept – software-created fake girl profiles.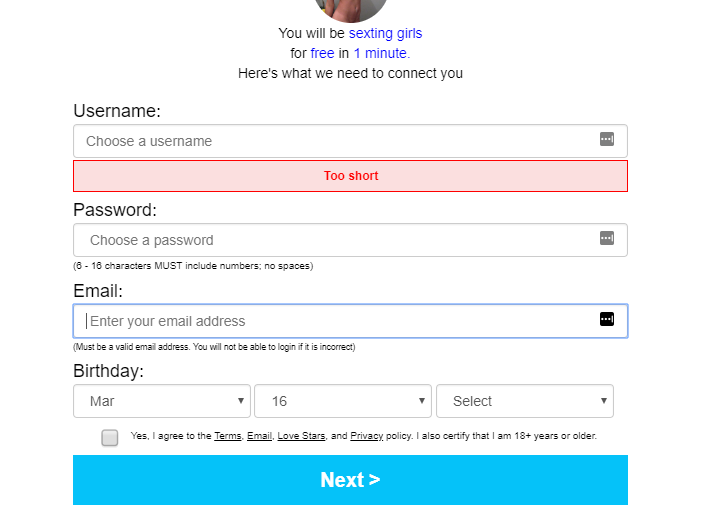 Step #3 – Fake Love Stats Send Computer-created Messages
All girls that are created by computers have the two-letter acronym next to the girl's profile photo and description. If you are too horny, you may not even notice that you are being chatted up by a fake profile because these girls usually have gorgeous photos and every guy immediately jumps in hoping to get lucky. However, once you start sending messages, you won't need to wait long to see that you won't get any date for free and that you must upgrade to one of the expensive memberships in order to continu chatting.

Price Tag
3-day trial membership is $2.97
1-month package is $29.95
3-month package is $74.95
6-month package is $119.70
Busted or Trusted?
If you need any more proof about how things stand once you register for the sites in the network that is associated with MeetnFuckApp.com have a look at all other reviews we have prepared that contain the prefix "free lifetime". This is really a unique way to masterfully trick thousands of users and take their money for nothing. In fact, all you have to do is to read this post here, because it contains all the necessary elements that explain this huge scam.