BBW dating is a very popular category. Almost ten percent of all dating site members belong to this group. They either pick strictly boot sites for BBW singles or choose the same category on all-purpose dating websites. Therefore, it's no wonder many fraudulent companies invade the niche like scavengers, trying to persuade users to buy expensive subscriptions. Today's review is dedicated to CuddlyFreeandSingle.co.uk, a fresh bake from the dangerous kitchen of Venntro Media.
Why is CuddlyFreeandSingle.co.uk a Casual Sex Scam
The first and foremost proof of the scam performed here is the association with Venntro Media Group. Here's the proof of that fact:
"The Site is operated by Venntro Media Group Ltd. (also trading as Global Personals and White Label Dating). We are registered under the laws of England and Wales, and our company number is 04880697. Our registered office is 59-60 Thames Street, Windsor, SL4 1TX, United Kingdom."
We have inspected numerous sites created by Venntro, and all the investigation procedures brought us to the same result. They deal with profiles that aren't genuine, they share your information, and they sell multiple confusing memberships just to find new ways for ripping off their naive customers. Let's investigate each of these wrongdoings in a bit more detail.
Watch Out for the Information Sharing
Since Venntro Media Group works permanently to develop multiple dating sites with the intention to cast a wide net, you must be aware that your information eill most likely be shared on dozens of other services. CuddlyFreeandSingle.co.uk is doing this to improve your dating prospects, but we wonder how successful this tactic really is. Why would they need to build as many sites in the same dating niche if the first one was successful? A typical example of copied fake sites by Venntro Media is this current review and the review of BiggerLover.co.uk. They are almost the same.

No Genuine Profiles – Proceed at Your Own Risk
Here lies the biggest problem of CuddlyFreeandSingle.co.uk – the existence of profiles that are not genuine and the entertainment service description. Let me ask you one thing – when you visit a website which states that the profiles may not be genuine, does it offer anything in return? Because life is short, there is no extra time left to be wasted on non guaranteed hookups. Typically, most make-believe profiles come from stock photography repositories.
"By using this Service you accept that any member profiles, messages and communication may not be genuine and you agree to take reasonable precautions in all interactions with other members or users of the Site or Service, particularly if you decide to meet offline or in person."
In terms of payment tricks, there are a few things you need to pay attention to. Here we explain two of those.
Misleading Special Promotions
Be careful when buying a discounted membership offered as a part of a promotion. Promotions end, and you automatically must pay for the renewal for an increased fee. You'll never know what happened unless you keep a close eye on each month's payment and try to avoid the extra fees as soon as possible.
Credits, Basic Fees, Gifts, and Promotions – which is which?
If you want to communicate, you must buy credits. You can engage more with members by buying virtual gifts and sending them to others as incentives. In addition, some members become eligible for bolt-ons, which are nonrefundable. The site calculates the credits are the virtual gifts in a different way. Therefore, you can never tell the costs of these various tokens. This practice makes you easily susceptible to fraud.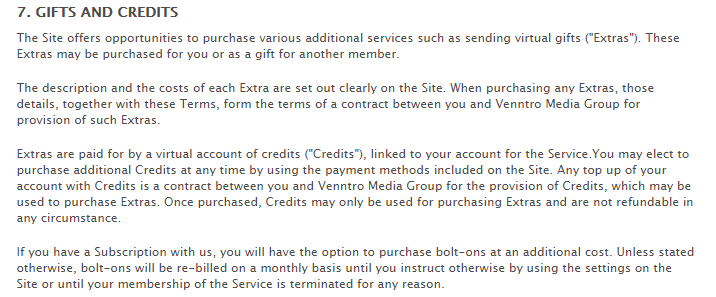 Price Tag
£74.69 for a 6-month membership
£45.94 for a 3-month membership
£22.94 for a 1-month membership
£103.44 for a 1-year membership
Busted or Trusted?
CuddlyFreeandSingle.co.uk doesn't provide great trust in its genuine services. We have collected much evidence to certify that it's not real. As a matter of fact, we didn't have great doubts about its fakeness right from the start because we know how Venntro operates. However, things always look more reassuring when there's proof. So suit yourself and check out all presented evidence about the fraud that the creators did on this BBW dating site.