LocalsGoWild.com looks like it has come straight from a French affair. but that is not the truth about this adult dating site. Disregard the sexy blonde with the barret thinking that you will have wild sex when you meet the right single. You'd better concentrate on the things about LocalsGoWild.com that are not true and that are explained in the review below. When you have all warning signs at hand, you will navigate around the site with ease and confidence.
Authenticity
Together Networks strikes again with this newest website in their network of frauds dedicated to fake services. The fraud is based on several elements that are used on all sites in the network. The scam is the same. The only thing that is different is the design of the front page and the colors of the website. We can't really speak of any originality and authenticity. In fact, we can only speak of a perpetual fraud.
Why is LocalsGoWild.com a Fake Dating Website
The same reasons for LocalGoWild.com's fraudulence on other websites are vital for the fraud on this site, too. Let us have a closer look at that.
LocalsGoWild.com Sends Instant Messaging Called Activity Alerts 
The activity alerts are promotional messages created with the intention to sell you upgraded. The task of the activity alerts is much like the same task put in front of the virtual profiles who use computer-generated messages. You get them in your inbox to stimulate conversations and you can't read them unless you upgrade. Quite a convenient upgrade, don't you think?

Date Booster Packs are Just a Commercial Service to Sell You Unnecessary Memberships
Date Boosters are actually a cover-up for the fake memberships on multiple websites. If you forgot, let us remind you – LocalsGoWild.com sells them as extra memberships on the sites that are part of the huge scam network which basically have the same audience and member database. So, when you read the provisions below, don't forget that "Together Networks" will never tell you this, but that you are paying for the same hookup site a couple of times.

LocalsGoWild.com is a Part of the Together Networks Scams
Here it is  – more about the content revealed above, only if you took the time to digest that. You can find more about the sites copied by "Together Networks" by investigating the appropriate tag on Adult Dating Patrol.

Plethora of Paid Services: Cams

,

SMS

,

and Shows
The real point of the existence of LocalsGoWild.com is not about the amazing dates with local singles who go wild. It is not about the paid memberships. It is all about the added features for which you need to pay additional money and forget that you joined the site to get laid. There are two SMS packages, one for regular and one for Australian customers, as well as cam room links and paid video material.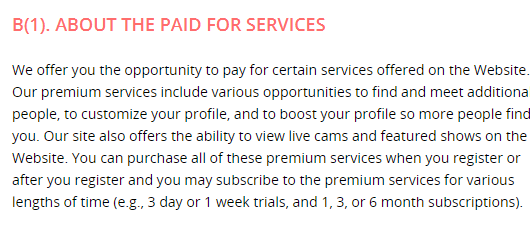 You Might Need to Pay Extra Fees
When you provide your card for bank transactions, you don't expect that you will need to pay just the basic described subscription fees. Calculate supplemental costs related to bank transactions and currency exchange fees and add there an authorization fee deducted by LocalsGoWild.com to make sure that you are not a fraudster! Nice – the greatest scammers check if other want to scam them!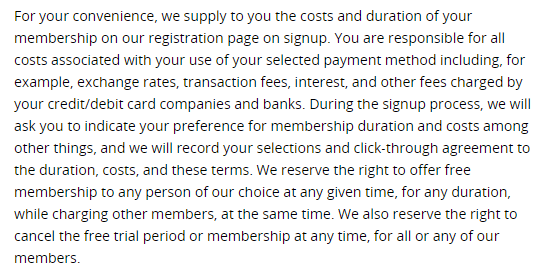 Price Tag
3-day trial membership is $4.47
1-month membership is $34.99
3-month membership is $59.96
6-month membership is $95.94
Busted or Trusted?
Take the membership at LocalsGoWild.com with a grain of salt. Make sure that you read all site documents. Gather all relevant information from there, Pay attention to the repetitive pattern on "Together Networks". Do not pay unless you took a free ride and are convinced that you made an informed decision. Give only as much as you are given. You are not getting laid on LocalsGoWild.com, that is for sure. Whether you are going to do it by yourself or follow our advice is irrelevant. Just save your money from the rip-off!