This time our task was to investigate LocalBlackMilfs.com, one of the targeted dating services which claim to have the best black adult dating community on the web, full of sexy ebony chicks ready to get laid without wasting your time.
Did we come up to the same conclusion or expectedly so, learned that we are dealing with yet another fraudulent time-waster? Even if you recognize a scam, it is worth reading more about the content and commenting on the content so other users get value from your experience and don't fall into the same trap.
Zero Authenticity At Local Black Milfs
Generally, there are many guys who like dating mature ladies, as there are plenty of those who love dating black chicks. So LocalBlackMilfs.com would seem like the almost perfect dating site for them.
Yet, our background checkup turned all our pleasure and joy into a nightmare when we saw that we are yet again dealing with one of the Nautell-related services which use fake dating profiles and charge SMS and IMs for regular members. Not only will you not be able to use your phone in a normal way, but you will also need to pay for something that comes for free on many other genuine dating services.
Let's follow the registration and hookup process on Local Black Milfs to find out more.
Why is LocalBlackMilfs.com an Illegitimate Dating Service
This adult dating website belongs to those that use almost any trick available to those that are ready to work dishonestly.
To engage users whentheye join the site for the first time and entice them into buying an upgradeLocall Black Milfs applies fake profiles which can be site employees or third-party contractors or just computerized actors. Here is an excerpt from the site provisions: "Interactions originating from Fantasy Cuties functionality could be computer generated or could be created by the Site or third party contractors hired by the Site. You comprehend, acknowledge, and agree that the interactions, profile information, and content utilized by Fantasy Cuties profiles do not originate from any actual Site member, but are present for entertainment, informational and Site monitoring purposes only. Any similarity between Fantasy Cuties profile information or interactions to any real person is purely coincidental and fictitious"

LocalBlackMilfs.com uses automated messages.
Those fake women do not engage in real human interaction, but just send previously prepared text messages with the intention to keep the users going. This means that you should not believe in anything a girl says there, because for all you know, there may be no one on the other side of the connection:"You further comprehend, acknowledge, and agree that, Fantasy Cutie profiles may contact both free users and paid users with computer or human generated interactions for the purposes listed above. These interactions may be initiated to several users simultaneously or in a small time frame. Should a user respond to an interaction from an Fantasy Cuties profile, said user may receive one or more human or computer generated replies from the Fantasy Cuties profile."
There is a paid Instant Messaging (and SMS Messaging) Program.
This is a quote from the site provisions. Under the hoodwink of safety, LocalBlackMilfs.com has an outsourced SMS and IM programs that sell messages for tokens. Each of the subscriptions comes with a specific number of tokens, only the VIP and the Gold one are unlimited. "The Site provides an Instant Messaging service, providing Members the optional ability to communicate with other Members or Fantasy Cuties via on-site Instant Messaging. Members purchase Tokens to use the Instant Messaging Program service." 
Local Black Milfs has no privacy policy guarantees.
Instead of confirming via email, you need to bookmark the page and follow any changes by yourself, hoping that you stay on track with possible changes! How on earth do these scammers expect that you remain up-to-date for just one site? Do they think that you don't have anything better to do?

The site promises fake free subscription
You start as a free member, give your data, get access to the member's area and – there comes the moment when you decide it is time to hook up. At that time, you surprisingly (or not so – if you are experienced) understand that you must pay – and here is how much: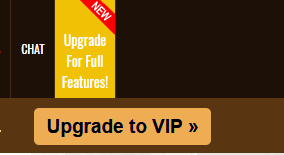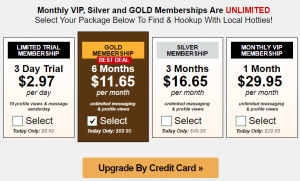 Price Tag
Six-month deal costs $11.65 per month
Three-month deal costs $16.65 per month
One-month deal costs $29.95 per month
Busted or Trusted
We collected an array of evidence that LocalBlackMilfs.com is a dishonest service working its way around usual and honest service providers, overpromising and underdelivering. The deceitful tricks are standard, but this time they are aimed at fans of ebony mature women. By tricking you that you will find easy hookups (because there are thousands upon thousands of great sexy horny black women) they overcharge you for membership, SMS tokens and IM tokens.
With all these charges, you migh as well go out, have a few drinks in a decent bar and end up getting laid for sure, with a milf you know is a real person!