InterracialMatch.com is a hookup site for mixed relationships. You can sign up using the registration screen or use Facebook. Facebook is convenient for matching friends and borrowing from your friends network so that InterracialMatch.com cater to their website.You also need to know that there are connected to the SM.com company which is just an umbrella for all affiliates of InterracialMatch.com.
Authenticity
The site is not specifically for a hookup date or casual sex but it also gives the possibility to reach for serious relationships. It's a nice mix. Although most of the members come for casual dating, it says that it can guarantee your interracial matching come true? Is it really a one-of-a-kind offer that works 24/7 to indulge your sweetest dreams? Since it is supersized network of affiliates and it has the inability to maintain visibility of active profiles it doesn't promise too much. Maybe this is the reason why most members don't like it.
Why is InterracialMatch.com a Poor Hookup Site
Here are the most important negative factors to keep an eye on.
Watch Out Where You Land: an Affiliate Network
SM.com and Interracial.com are connected and a part of a big network. As a matter of fact, SM.com is the mother company. All landing pages from the affiliate websites come to the main page and make users join the same database. Apart from posing a security risk, this can make users pay double and triple fees. Thinking that they join a different site, they will land at the same place.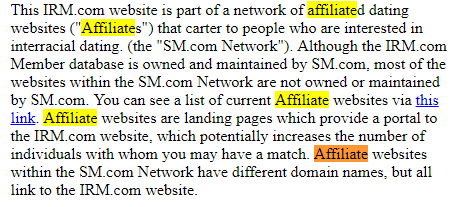 No Control Over Third-Party Links
Very nice! No control over what these affiliates post! Anyone can work their way around the rules of InterracialMatch.com and do whatever they want with the content. Unfortunately, when there is no control over the third-party content, you are like a ship in the middle of an ocean storm. You never know where you're going to land – dead or alive!

Limitation of Your Profile @ InterracialMatch.com
Only special offers get free alternatives for dating. So – it's all about the advertising. Otherwise, you need to pay to get hold of the other members. However, the active profiles are not separated from inactive ones, so you may end up chatting with someone inactive. This sounds like a coverup for virtual profiles, but without proof, we can't claim that for sure.

Price Tag
One month for $29.95
Three months for $59.95 or $19.95 per month
Six months for $95.95
Busted or Trusted?
InterracialMatch.com is an inexpensive site. You can get a full year of membership for as low as around $90. Most other hookup sites cost at least 130$ or $140 per month. In that aspect it's affordable. It also caters to a specific niche so if you're really looking for mixed dating this can be your option. However, if you're looking for top quality dating then you might want to search for your hookup happiness somewhere else because the feedback collected from other users is not top class at all.