Many people like to hook up with milfs for sex. This is why there are so many awesome dating sites for mature women. But this is at the same time, the reason why so new fake services crop up out of nowhere to lure new prey in. Unfortunately, the experience on FreeSnapMilfs.com isn't such that I was too happy to have praise for the site. On the contrary, I am quite disappointed but that doesn't mean that you don't deserve a review.
Authenticity
The site has the basic features offered to users of adult dating sites – the name related to snaps doesn't have much to do with the truth because I didn't notice too many hot snaps of real milfs, This is because there are hardly any real milfs on the site – the majority of the site profiles are fake – virtual bots created to engage and entertain new users. You should also not expect that the membership is free because you will be prompted to make an upgrade just after you provide your details. If you don't want to provide your details, you will not be able to access anything on the site! Get ready to pay some pretty high prices if you decide to join FreeSnapMilfs.com.
Why is FreeSnapMilfs.com a Fake Dating Service
The site is a part of a network that uses the same scam.
With this discovery, it dawned on me that the site is not even a real site that will get you a hot milf hookup. I have a fair share of investigations behind me so I am positive that the service is related to sites like Swipe Flirts, Easy Snap Sex, Meet Bang Now and others that use pretty much the same fraudulent methods. When you go through some of them, I am sure that you will also notice the scam and maybe don't even need to read further down the text below.
You get billed for extra services.
The basic payment for FreeSnapMilfs.com is just one side of the coin. You will need to be extra careful when clicking yes on the card submission form because you will be charged extra money for additional services like adult movies or video subscriptions. Although the initial trial included only costs less than 3 bucks, the renewal is over $70. Goodbye free membership, hello overdraft bank statements!
You will get pestered by automated messages and "Love Stars".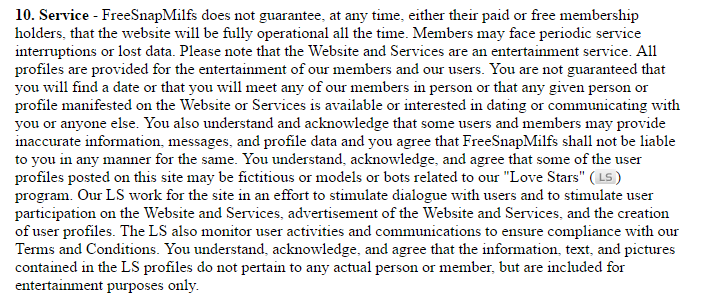 A quick guide to how love stars work: they are fictitious profiles that take all the time in the world as employees of FreeSnapMilfs.com to charge extra from you when you go for an upgrade. They use all types of easy-on and persuasive methods, as well as aggressive selling tactics – anything that works wonders for the users. They will do anything they can: post a video with a cute girl, let her send you messages, chat you up, send you compliments, flirt with you. But rest assured that you will not get laid with that cute photo. As far as employees are concerned, they can be even men which create hundreds of fake women profiles.
FreeSnapMilfs.com has weak privacy rules.
Again, as it has happened on many previous occasions, your data gets not only stored but also transferred and sold to anyone for marketing, distribution, referral and commercial purposes. You will not only endanger your card, but also your identity and who knows what else if or when your data gets misused for fraudulent purposes.

Price Tag
1-month subscription to the main service is $49.95
1-month subscription to the video service is $39.61
1-month subscription to video vibe is $28.87
Busted or Trusted
You might remember from the past that we never approve of sites that use fake women for luring users in. We also appreciate true matching sites with free subscriptions that don't just look like they are a copy of the previous scam. You will endlessly scroll around looking for a chance to chat or do something else while continually being abused with prompts for upgrades and other meaningless ads like penis enlargements and porn clips. You'd better look for some great snaps at SnapSext.com – it is full of pics of women of all ages, including milfs.