Some of the most dangerous escort agencies use search engine algorithms to help users find a girl at the right location. This further complicates things. I struggle with investigation all those hundreds of links and form an opinion about all of them. Today, I'm exploring Happy Escorts, which uses exactly this tactic. Since it is a search engine, it links agencies and independent girls from all over the world. As they say, they have over 40,000 escorts. Let's see if you should spend time here
This is Not What You Want (Not Happy Escorts)
Are you up for filling in a contact form with extensive details and then paying 200 or 300 dollars for a date? I'm sure this is not why you follow Adult Dating Patrol. You are here to check for legitimate dating services that can bring you quick casual dates and easy hookups. That doesn't include skyrocketing payments. So, I really don't know what you are doing on sites such as Happy Escorts!
Based on Paid Memberships
You need to log in, subscribe, and pay. This looks a lot like becoming a member of a fake dating website and using the escort directory as a cover-up for the suspicious combo of products and services. If you need to pay just for membership, you are definitely not using a free hookup site or a typical escort directory, to that matter! Why I suspect this site that calls itself a search engine is worth the buck becomes more obvious in the next section.
What Hides Behind Happy Chatroom
This service is presented as a 2-way audio and video service. It's clearly a webcam service, one you will need to pay good money for if you decide to try it out. Though there is a mention that this is not a part of the escort service, I doubt that everyone notices this small print! I'm sure many have fallen into this trap!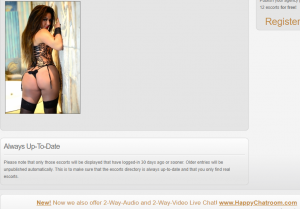 Verified Profiles?
Do you know how they verify the profiles? They ask the escorts to log into the account from time to time. At least that's what they tell users. What the heck? Anyone can log into an online account, upload some great sexy pictures and start acting like a model! That's no guarantee that they are genuinely who they say they are!
Why You Need to Stay Away from Happy Escorts
Here are my reasons, in a nutshell:
Suspicious escort search engine

Cam rooms

No profile guarantees

Mixing independent girls and agencies

Complex sign up procedures
My conclusion is not that much different from my other escort site reviews: Stay away and look for no-strings-attached relationships on verified and free adult dating services!