Again we are meeting with our new frenemies from Nautell with the latest addition we have discovered amongst their scammy works. It is called FreelifetimeDate.com. Surprised? No, not really! Hardly anyone who knows anything about the productivity of Nautell when they are making hundreds of new variant of the same old fraudulent website will be ever surprised! In case you haven't met with any previous scam with the 'freelifetime' prefix read more carefully. Otherwise, just browse through the article. You probably know everything about it!
Authenticity
There is no 'a' from authenticity as far as Nautell is concerned. This hookup site company just has no sense of decency. They use all the same interface and very similar names in dozens of new websites. Only here, on Adult Dating Patrol's list of scammy sites, you will find about 15 of them. In fact, they are one of the most famous adult dating scams in the world. This is why we have dedicated a special section to the 'freelifetime' model od hoodwinking people. You can find the full text here, and if you are interested only in Freelifetime.Date.com read more below.
Why is FreelifetimeDate.com a Wicked Dating Site
While it can really difficult to recognize the scam on some platforms, on FreelifetimeDate.com the scam is very visible, and only if you are a total newbie you will have problems recognizing it.
Fictitious Profiles Called Love Stars Hoodwink Users to Get Paid Upgrades
If you were hoping for juicy, sexy hookups on Freelifetimedate.com only on the basis of the girls' pics you saw on the opening page, forget about it. They may look gorgeous and stunning but they are all fake. Whenever you notice the two letters "LS" next to a girl's profile, you should know that you are dealing with a scam. The girls are a part of the promotional service created by FreelifetimeDate.com and act to entertain new users when they join the service. They have a full scope of job duties. However, their main duty is to offer upgrades after sending sexy chats to new registrants. How about having to work with bots to get into the mood and then get nothing? Yeah, thought you were not going to like the option!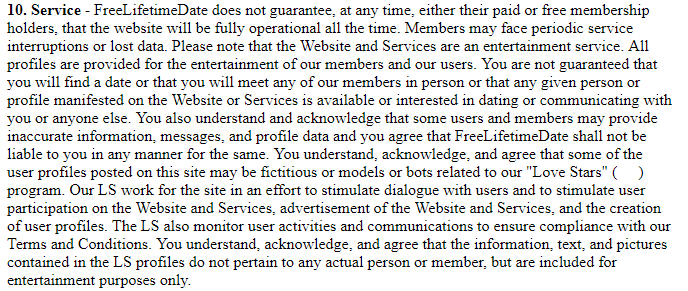 Your Private Details Get Into the Collection of the Love Stars for Commercial Purposes
Seducing new users is not the only task of the Love Stars. They also monitor the user communication in general and keep an eye on what is not as it should be. They will collect user data for commercial purposes to target marketing campaigns, but also disclose it to partner companies and within the network. You should be careful with the content you upload on FreelifetimeDate.com if you don't want to be a part of ridiculous xxx movies and advertisements about that foolish penis enlargements!

You Automatically Become a Member of All Freelifetime Hookup Sites
The partner companies are not the only problem you have to think about in terms of privacy. FreelifetimeDate.com will create additional troubles on the other websites. You can get contacts from members who are not into the same thing. Moreover, if you didn't know that they are sharing the member database and that you are getting 'sold' via the other landing pages, you could have easily got a new membership on each and every one of them! What a nasty fraud behind the repetitive websites!

Price Tag
Paid subscription for a 3-day trial is $2.97.
Paid subscription for 1 month is $29.95.
Paid subscription for 3 months is $74.95.
Paid subscription for 6 months is $119.70.
Busted or Trusted?
Never trust any website with the prefix "freelifetime"! As a matter of fact, never trust in any freebies, even if they come from your mom! There is alwasy a catch involved. Sometimes, it is almost too late to save your butt and avoud paying hundreds of dollars on monthly basis. As far as your mom is concerned, you know yourself the costs of the interaction. No needfor us to explain that!