Fantasy Escort Guide is a typical website for call girls and escort agencies to promote their services. However, it calls itself an "Adult Community" which can confuse some users about the site's content and what's on offer. Because I come from the adult dating websites' network I try to be as clear as possible in the terminology. But – that's not always easy. Users have one idea about dating sites and another for escort sites, but the vocabulary doesn't support that. It's so easy to get lost in the online hookup world. If you want websites that won't lead you astray, read more about Fantasy Escort Guide and how it works. 
The Stages of Etiquette on Fantasy Escort Guide
The site includes a beginner's guide to dealing with escorts. If you are a newbie, you'll find this very useful for two reasons. First, you'll learn how to act appropriately with advertised sex services and make a difference form free casual dating websites. So here are the rules of the game for communicating with escort girls.
Do your research

Initial contact counts

Verify the girl profile

Set the appointment

What happens on THE day
You can read more about these rules in the relevant section on Fantasy Escort Guide. But if you want to see why I'm not the biggest fan of escort sites, you should learn more about the loose rules of free hookup sites. The main difference is that you get a free membership and deal with real women who post genuine content and upload real images. Yes, you can't be 100 percent sure on hookup sites because there are plenty of scams in that world, too. But your greatest risk will be security and privacy, and not huge membership costs or paying for getting laid. If you want to put it in another way, the risk is much smaller on free dating sites.
What's the Problem with Fantasy Escort Guide's Content and T&C?
Three biggest issues I identified are:
Inactive Profiles
Many of the girls have been inactive for years, Some just upload a photo and don't visit the site very often. Ads are placed by escort agencies. Therefore, you won't be able to see plenty of direct information about the girls but indirect praises for the agency. This is not an advantage as the real assessment can be made by having a chance to initiate contact directly. That's one thing you get for sure on casual dating websites.
Fake Photos
Escort sites often have the same problem as fake dating sites. They contain fake photos, either posted by the contractors or by the agencies to attract more users with visually appealing content. If you find that the girls look too good to be true, they usually are. For those that need proof of this fact, have a look at this photo of the escort model. I did a reverse image search on Google, and as it turns out, she is no one else but the adult movie star Jailyne Oyeda.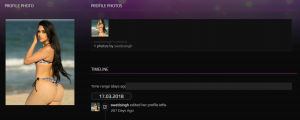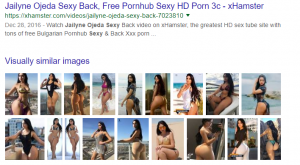 Weird Credit Card Charges
Not sure exactly what you get by submitting our credit card information to Fantasy Escort Guide, but you'll probably need to pay a portion for the girl, a port for the agency, and a portion for the website. Not your ideal world for sex dates, right?
Making a Call on FantasyEscortGuide.com
You can get into a lot of trouble with fake images, dubious agencies, and third-party links. Dangers are lurking from every corner on Fantasy Escort Guide!  As you can see, people post different garbage on advertising platforms like this one, making them unreliable providers of services looking for legitimate casual dating sources.