In some countries, prostitution is legal, so you won't have any problems with getting access or using these sites. But would you want to pay for sex when you can have superb hookup experiences for free? And  – do you want to travel to Australia? I am asking this because today's review is about EscortsandBabes.com.au, which is an Australian escort site.
A Risky Aussie Site = This One!
Aussies are pretty liberal with their paid sex policies but that doesn't mean that you need to waste time on expensive escort websites! For one thing, you need to learn a lot about their laws because they change in every province and you may end up in a big mess!
On the other hand, I hate when I see so much marketing about paid sex when you have it all at no cost or for affordable monthly memberships at much better providers. I wouldn't give EscortsandBabes.com.au more than a browsing minute!
Illegal Prostitution Risks
If you are a bit up-to-date, you know that prostitution is illegal in many countries, including the USA, where I come from. Also, as I just mentioned before, the rules of the paid hookup change in different Australian parts, so you can never know how protected you are as a customer or what you can do for the money.
Which brings me to my next point…

Unsafe Bareback Sex?
Did you know that it's illegal to ask a sex worker to have sex without a condom in some Aussie provinces? Yup, you can end up with a fine and a penalty if you ask someone in Queensland to do that.
In contrast, if you go ahead with the risky idea and actually do it where it's allowed – in NSW, for instance, how about getting an STD? Not good, right? So, think well about the risks you expose to!

Rub and Tug Girls
I like this convenient name tag for masking all types of businesses as escort sites. Just put it in the massage or escort site basket and you are good to go! So, people fall for this cute sexy names and agree on paying for a lot of nonsense, being fooled and rarely getting what they want.
I've heard dozens of stories where girls give hints about something they will do and ask for advance payments and, in the end, never actually do what they say they do, leaving their clients hanging!  On adult dating sites, you know you won't be paying for sex!

Advertisement Fees
Well, girls don't pay much for advertising on EscortsandBabes.comau, but let me tell you that they are going to charge you for these extra monies they need to pay for the ad publishing.
I don't see a reason for paying triple the fees for an unsafe escort (aka prostitution sites) when you can get a lot more for a lot less on legitimate hookup sites!

Keep it Far and Away!
Just let EscortsandBabes.com.au stay down under on the other side of the world! You just don't need to take any risks by paying for sex that's so far! Let me ask you a question – will you pay for plane tickets for these women?
I sure hope that you don't intend to do such a stupid move!
Infographic: EscortsandBabes.com.au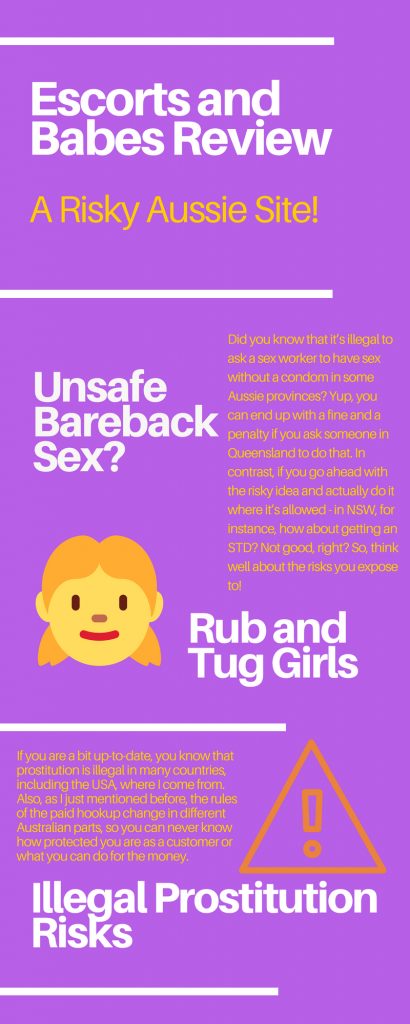 I'm not one for hiring escorts, so you will not hear me say that you should go for it here. Sorry, but this doesn't really fly with me and it's not a great site. That's all I've got to say with you about that. Do yourself a favor and avoid it like the plague.