Some of the websites I review on daily basis have been simple and clear. You find only one type of service, and even if they try to pull the wool over your eyes, you will still uncover everything there is to know about them in a number of minutes. Other sites, such as Escort Index, the agency directory that's on today's agenda is a total chaos. As a directory, you can't really say where is the greatest risk. Follow my tour of this site to see how to save your ass and get out without scratches. This is a short and sweet Escort Index review that will help you avoid the biggest mistakes!
Escort Indexing of Fake Adult Dating Services
Hey – don't hope to find hookups here! There are all sorts of sex contacts, but definitely not the one you're here for. So, don't waste time looking for adult dating resources, when all you can find are links to various escort sites and a bunch of paid sex contractors, including independent models and agencies from around the globe.  
Independent Escorts & Fake Profiles
Maybe escort index is so crowded because anyone can post content here and advertise their offer. It's impossible to get the hang of everything that's happening in this mix of things.  It's like a forum or a social media channel without any rules. The site is painfully slow to load and it is not secure.
Mix of Services
Agencies come from all over the world. Really, the site includes multiple destinations are included. You can find agencies from all over the world and fake adult dating links. There are also city-based escort agencies, such as those related to big cities, as well as those related to dubious casual dating sites. That's what you can expect from cities with millions of residents! But under no circumstances, you'll find free dating opportunities!
Crowded Profile Pages
I tried to see what's going on with the profile pages, see the number of members, active topics or hookup rules. I just couldn't log in because of the website speed and all the rubbish content posted from everywhere!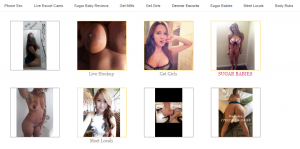 Call Girls from Everywhere
As a hook for new members, the site posts ads about call girl tours, marketing their visits to various locations, typically in the same area or nearby towns. Imagine what could happen if you try to use a search filter in your own location and find a girl that's actually charging for sex!
Poor FAQs Section
Nothing to find here! Full-blown emptiness or just scarce information about topics that are obvious lies!
Conclusion about the Escort Index Review
You can take all the time in the world to find free casual dates, but that won't happen on this website. You will find thousands of paid call girls, that's for sure! Regardless of the hundreds of "ads" posted under then "meet locals" tab, there is no real way you'll get laid on Escort Index! The only thing the site indexes is bugged content, streetwalkers, and various types of online scams!  
Having said that, I 100% cannot have you visiting this site under my watch. It's bound to cause turmoil in your life some way or another. Should you want to hook up with someone, then just give the fling site a shot. You'll find plenty of horny and willing women there, believe dat!