I haven't had so much fun in a while as I did with this Mistress Elite review. As a matter but of fact, the site is pretty hilarious, although you won't find free dates here. And that's my primary and most important task when I do reviews. Despite the fact it has a section for classified ads, they have nothing to do with casual hookups. They are just plain advertisements for escorts and a variety of associated adult offers. Let's find out more about the site with an alternative name Mistress Elite Directory
Mistress Elite Review: What's Key?
It has a decent interface. You won't have troubles with the navigation. But I'm not sure if you need to navigate for so long on a plain escort website. I'm also not sure how much you can trust the content. There is no proven way to check it.
Mistresses
Since it's based on the domination concept, the escorts are called mistresses. You'll find plenty of profiles of girls dressed in leather and black. You know the typical "scary" stuff for dominatrix ladies, fishnets, black hair, and strong makeup. The thing that works for some people is fine, but you ain't getting it for free!
Agencies
No question – there is no way around agencies. I didn't notice so many of them here. Most of the profiles belong to individual contractors. But there are agencies. You know what's the worst thing about them by now. You will need to pay additional fees as a commission for the agency on top of the fee for the girls. I'm not at all amazed by this, and if you are smart you won't be, too. I've written hundreds of pages on how to get laid for free, so there's no need to pay!
On Tour
I'd you like some of the girls, in particular, you can see where they travel and arrange to meet them while touring. Sometimes, this booking ahead includes new fees, such as travel or overnight fees. Consider this when you decide to meet a girl on tour!
Blog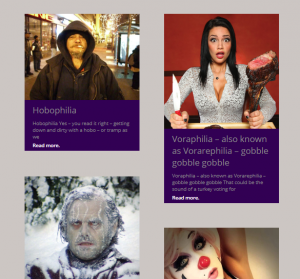 Weird fetishes, girls' stories, and variations on the same subject. This is the funniest section on the site. I didn't see any useful advice about how to facilitate your dating efforts. Not even on the site itself. But there is content posted by some of the mistresses, so I guess you can learn a lesson or two about what they do!
Mistress Elite Reviews from Users
Users post reviews here, but they don't look credible to me. It's just a bunch of make-believe stories with no real vibe in them. If you trust them all, it will turn out all escorts are spectacular without any flaws.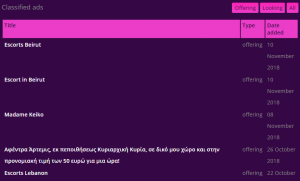 The Classified Ads Section
As you can see from the screenshot below this section is all about escorts and madames. There's no mention of real girls to date, though the section is called classifieds which can be easily mistaken for adult personals. Many people are often misled by such descriptions.
Final Thoughts on Mistress Elite Directory
I don't have words or kudos in favor of Mistress Elite. It's a provider if dom paid sex and there's nothing you can do about it. Unless you pay, you're getting nowhere. Services can't be quite expensive so watch out! You can end up in far greater debt than you thought. My final verdict about this site says it's a classifieds scam, with no adult personals at all!
What you need to do if you want to simply hook up is to take the time to meet people via networks that don't require the exchanging of money. One way to do this is by using the sites I suggest, specifically, this dating site.