Online dating in the black community has a special vibe. Many people like having the chance to get laid within the limits of a particular group. Misusing the right to have NSA relationships in just the way they want them, EbonyFlirt.com prepared a nasty and an expensive plot for people who like ebony dates. By charging several unnecessary commercial services, they will find a way around your resistances and set you up for a hookup scam. Beware – the deception channels are many, so you really need to open your eyes.
The Authenticity of Ebony Flirt Site
The application is sold via the EbonyFlirt.com website and via iTunes. Fake hookup apps set in stores are especially problematic because multiple players are in the game. you will have to deal with the rules not only of the main seller, but also check out the specifics of the store and of the app creator. In all those nice and shiny descriptions and pictures for apps, it is very easy to get fooled. When you sit conveniently relaxed with your smartphone browsing sexy images, your defenses are down. EbonyFlirt.com works its way into users' pockets by using this tactic.
Why is EbonyFlirt.com a Deceptive Hookup Site
If the hints in the introduction and the second section don't provide sufficient amount of information to doubt the site, here we develop additional insights and offer proof from the site itself. Let us look into that in more detail.
EbonyFlirt.com Charges Extra for Cam Services and SMS Packages
First of all, you should be aware that no package on EbonyFlirts.com is for free. It is specifically stated in the Terms of Use that you can browse and join as a guest or a free member, but, unless you pay at least for the trial version, you won't be able to use the hookup site in full. That is only a part of the story. Extra paid services include cam rooms and an SMS chat which do not fall under the current subscription fees. Raed about them more below and watch out when you buy them and where you get them from.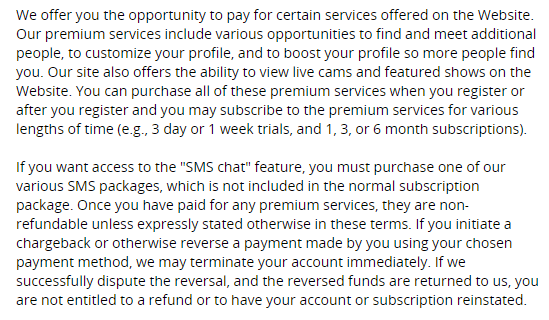 You Give Permission to EbonyFlirt.com to Distribute Copies of Your Profile
To support and promote its business, the site uses member details across a number of platforms. They just get you to sign up and upload photos or embed your personal details and then copy them as data in the additional services. Using lies that they do it for your own benefit, EbonyFlirt.com will make you a product instead of offering you a free service.

Auto-renewal Option Means a Fake Trial Version
The paid subscription packages include one three-day trial version and three longer subscriptions which go over a month, three months or six months. All of them are auto-renewed and if you want to cancel, it is your responsibility to do so. If you don't cancel, you agree to automatic recurrence of the charges. However, to cancel, you must place your cancellation at least 3 days in advance of your next due date. So, it is impossible to cancel the trial deal as it needs to be canceled at the same moment to become effective. It is evident that EbonyFlirt.com performs a deceitful way of charging you in full under the guise of a trial. Check out the evidence below.


EbonyFlirt.com Provides Limited Safety Mechanisms
That's right – you are totally on your own on EbonyFlirt.com. The app and the website from the same package do not offer security solutions to their users. The only thing in terms of safety implemented on the service is the SSL certificate. That's really the minimum of security application. If you didn't know how it works, you would have passed by it without paying attention. But, it actually support payment security.
 Price Tag
$4.47 for a 3-day trial
$34.99 for a 1-month full subscription
$59.96 for a 3-month full subscription
$95.94 for a 6-month full subscription
Busted or Trusted?
If you are thinking of finding a good place to get laid in the black adult dating community, we suggest checking out BlackFling.com. It's safe, secure, and handy. Did we mention that it is not a rip-off? If you mess up with EbonyFlirts.com not only will you create financial troubles for you, but you can also have many unpleasantries safety-wise. With minimum discretion, things can get awry in a sec. Who wants that to happen?