DesirDunSoir.com sounds sexy and rolling, but it's French tone won't let the team at Adult Dating Patrol fall for the scam The name of the dating site may be French but the scam is all-the-same. Together Networks pulled off another one of their deceitful methods to imitate a site with a French allure. In its essence, however, this hookup site is identical to the similar services in the network.
DesirDunSoirFrench Site Review
DensirDunSoir.com in French means "it will happen tonight". Obviously, the site is persuading you that this is the night you are going to get laid. You won't have to wait forever. Just join and a smorgasbord of sexy dates is given to you at your disposal. However, DesirDunSoir.com is just a copy of One-night do.com as per the usual trucks of Together Networks, the fraudulent company for hookup personals that recreates a massive-scale false features mess. And, it's pricey, too!

Why is DesirDunSoir.com A Fraudulent Web Service
Apart from being a part of a well-known network, DensirDunSoir.com sells multiple services you don't need.. Be extra careful with your cash when you assess joining in.
DesirDunSoir.com Mixes up Subscriptions to Confuse You
You can register as a free user but you won't be able to make your way around the site. Upgrades are necessary for communication. On top of everything, you will need to give more for the SMS charge and you won't be able to refund anything. The subscription is renewed automatically. This is very important to keep in mind because at that point in time you will be charged for all basics and all extras. It is super easy to mix the costs.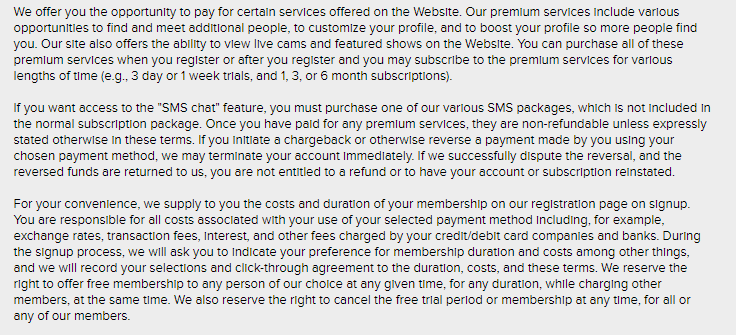 Date Boosters Serve to Mess Up With Multiple Hookup Site Registrations
These date boosters are namely an opportunity for the users to get access to alternative dating sites with diverse sexual preferences and different names. This trick of DesirDunSoir.com is a cover-up for selling new memberships. Why would you need to pay a new fee, when your data is any way duplicated across all sites? It seems that the free claims are totally unfounded in reality.

DesirDunSoir.com Uses "Promote My Account" to Send Fake Messages
On behalf of other users or third-party participants, the site sends messages included under the "Promote My Account" option. Then, it stops sending the computer-generated content leaving you in the middle of nowhere. You have just been pulled by the nose to stay longer on the site, and possibly buy some of the paid-for services.

The Upsell Trick is To Purchase Third-Party Video Content
There are cam services promoted via DesirDunSoir.com, as well as video-on-demand content. Evidently, this hookup app is only serving to sell varied commercial content that will not get you laid in a million years.

Rebranding Strategy Mockery is Used to Duplicate Your Data
It is no wonder there are so many sites under the umbrella of Together Networks. They work diligently under several websites. Then, when people unveil the nasty trick and put the new site under scams, they just "rebrand" the business and transfer all your data there to create a new member database.

Price Tag
$4.47 payment for a 3-day trial
$34.99 payment for a 1-month full subscription
$59.96 payment for a 3-month full subscription
$95.94 payment for a 6-month full subscription
Busted or Trusted?
DesirDunSoir.com is French-sounding but it is not a place to find French women if that's the first thing that came to mind when you found this site. How about looking into some other dating resources if you are into dating foreign girls? This is not the best place to go for that type of casual dates. Not tonight, not ever!