Some Americans really like Russian girls. Since Russia is not close, the easiest way to find a girl for a dating is to search for her online. DateNiceRussian.com is a hookup site for men looking to find girls from there. If you want to arrange hookup dates or something more serious, you can. Beware though it's not for long-term relationships. But – hey, no one can stop you if you want to turn a one-night-stand into something more. However, you need to be careful because the site uses tricky regulations. Let's find out how.
Authenticity
Despite your expectations about DateNiceRussian.com, it's not a unique dating site. As it is the usual practice on some of the hookup sites that we've reviewed they start the registration process with a simple survey where you need to answer a few questions so that they test your eligibility for the site membership.
This is just a marketing trick. Everyone turns out to be eligible to join any hookup site especially if it's using fake profiles. After you answer the three or four questions you get redirected to another web page which explains that you are accessing a member of the Qpid Network. Now, here is the biggest problem: if you read the Terms and Conditions you will see that they belong to the Qpid network. However, they didn't say that they don't have fabricated profiles, but that some other sites use them and create problems for DateNiceRussian.com. This investigation finds that very suspicious. Usually, when the payment processor and the company behind several websites are the same, they pull off the same scam.
Why is DateNiceRussian.com a False Dating Site
Below we explain the process mentioned in the authenticity section in more detail.
Hoodwinked False Profiles Make Problems on DateNiceRussian.com
Will you find romance on DateNiceRussian.com? We doubt so. If you go and check some other of our reviews that include the Qpid network processing center you will see that they work in a network and that they use a number of ways to sell services to their members – paid credits and virtual gifts. Everything is paid and they are quite creative in developing features so that you use more of your expensive credits. Don't fall for the promise that there are no false profiles; as with any fake hookup site they use them a lot!

Here is the registration screen that redirects you to another page once you answer the survey questions and accept the Terms and Conditions: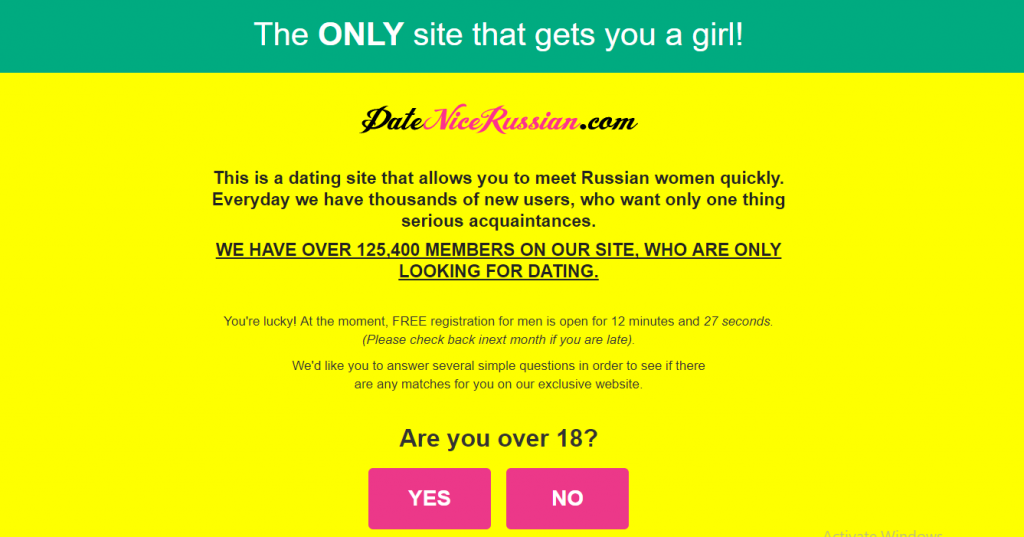 Third-party Links Complicate the Terms & Conditions on This Site
It is easy to pull off a scam once you are on a site that enables third-party suppliers that don't have anything to do with the regulations you're offering on the site. It's your own responsibility to watch what happens in the regulations, so let's see what's at stake here: one main set of documents for the regular visitors and plenty of third-party links without any responsibility on behalf of DateNiceRussian.com. Can this be the way that they pull off their scam? That seems like a very probable truth.

Price Tag
100 credits are $399.00
60 credits are $299.00
16 credits are $96.00
8 credits are $52.00
3 credits are $7.00
Busted or Trusted?
Yes, Russian girls are nice, sexy, and very hot, and hey maybe they deserve some extra investments. However, for sure no one deserves $400 for a couple of hours of chatting. $400 is the price of a nice tech gadget and although some hookup dates cannot be measured in money, when you make the comparison, you definitely see the point we're trying to make! Especially when the site involves fake girls with fabricated profiles as it is the case here!