Fetisj and kink websites are one of the most visited because people just love them. However, it's a problem to find a decent BDSM adult dating website. That is a fact even when you consider the existence of so many that have been published online in the last couple of decades. Today's BDSM America review will give you the kinky secrets and the not-so-nice stuff about this website. BDSM America is just not all that it seems.
BDSM America Review: Features
If you only look at the features, this will turn out to be a fabulous site that has plenty to offer. But it takes a bit longer researching to come up with real conclusions about the quality of a casual dating website. What are the community features on BDSM America?
Secure Messaging – you can have a private chat 

100% Real Members – not so true, find out why by reading further below.

Clubs & Events – will you visit any secret clubs? 

Live Video Chatroom – only for an expensive membership fee.

Locations – not for all locations, and do they work, really, for fictional profiles?

Members Blo – a basic feature available everywhere so not worth the mention. 
Furthermore, let's see what we can find in the Summary of the Terms: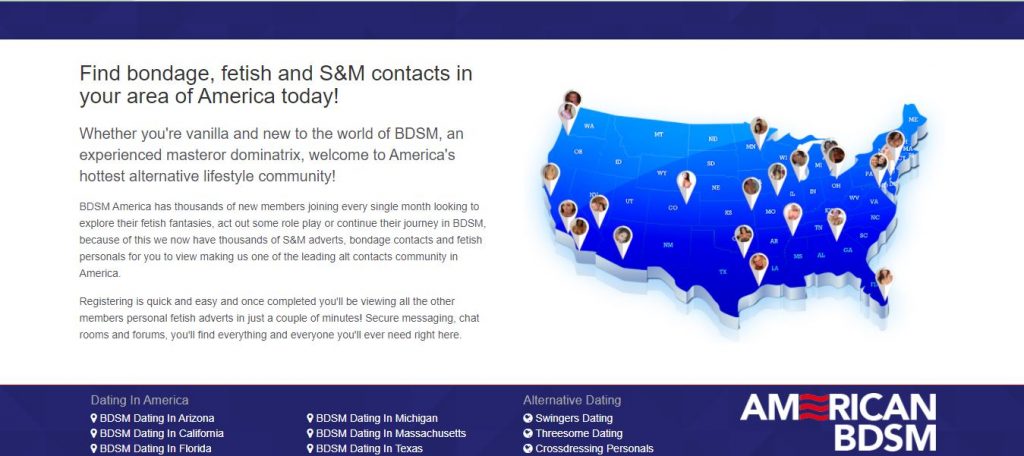 Dating Site Network Exchanges Your Profile 
BDSM America is a part of a multiple website conglomerate. It has one shared member database, so you can find your profile listed on websites that don't interest you. If you're into BDSM, and you find that your profile links to a senior dating website don't be surprised! But is this really something that you want? I don't think so!
Renewal Policy
Of course, there is an automatic renewal billing policy. So when you subscribe you need to be careful about whether you want to continue the membership especially if you don't have any success at first. 
(Keep in mind that by using the website you agree to share your information across the dating network!)
Email Communications and Test Profiles
You can think of many creative names for fictional profiles. But they're in essence, all and the same. When you sign up for this website you will start receiving email communications from profiles that are not real women. Although they may sound interesting and exciting for casual sex, they will simply keep you engaged with the website more.

For what? There is nothing in it for you. You're just chatting and getting all pumped up over nothing! The fake profiles are, allegedly, test profiles created by the company employees. They may be for testing purposes but the fact is that for you the goal is the same. Simply don't use websites that use any "unreal" profiles and just stick to those that have real members.
BDSM America: Review Results in Short
Sometimes, it doesn't take very long to understand that you will get nowhere with a dating website. Having fake profiles created by company employees is the single 100-percent-no reason that makes me run away from a website as fast as I can.
When I see the inbox messages using the same email template, I hate it. I keep getting the same type of messages from horny women that don't sound real at all. Again, I run as fast as I can. I suggest you do the same. In my opinion, this website is not worth it. You should just go for a real website with real members and try your luck there. Do you need to know which BDSM dating websites work? Take a look at our kink, fetish, and BDSM selection.
Must Read Article For Kinky Fans: A Warning To Those Trying London Kinky Escorts