It's time to put my detective hat on and conduct another investigation of an escort site. Today's review is about AdultLook, an insidious site that links to dozens of other fraudulent services.
Honestly, I couldn't find a safe spot to hide, being surrounded by dangers at every corner. Some of them were about live girls in cam rooms, others were about fake dating websites.
In the sections below, I explain in more detail why you should avoid spending time on this dangerous escort site.
AdultLook is Fooling You!
One of the biggest surprises even for me is that I found links to a well-known affairs site that lost its reputation by getting publicly disclosed a few years back.
Yes, I'm talking about Ashley Madison, but this scam really stroke me as unique. You'll find out why in the relevant section below. But, that's not even the biggest problem with this service. I'll disclose all problems one by one.
Suspicious Dating Links
The drop-down menu at the top of the page contains a variety of links to adult dating websites with a different preference. You get links to milfs, affair dating, and younger girls. But you'll never believe how deceptive are these links.
Some of them are downright malvertisements, linking to very suspicious hookup sites that will only poison your inbox with spam or even worse – steal data! One link is particularly dishonest – Secret Benefits.  
Links to an Ashley Madison Look-Alike
Now we meet with the biggest surprise that was difficult to notice even if you have a very sharp eye. The affair dating link takes you to a site that looks like it is Ashley Madison, but it's actually Ashley Rnadison.
I know it sounds ridiculous, but try typing that title in small letters. It is "ashley rnadison". Now you get my point!
Phone Sex and Video Chat
Adult Look is full of deceptive links that have nothing to do with adult dating. You will only get into money troubles if you start using some of this pad sites, not to mention other problems you can have if you pay for sex online.
You are aware that it's not legal, right? Just to stay safe, the video chat is Jet Doll!
The Camonster Monster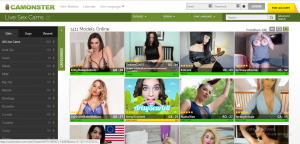 Again, don't look for hookups on this rip-off site that includes only paid services and pricey advertisements.
Why pay for sex and cam rooms that are unreal when you can have a bunch of exciting casual dates on some of the greatest websites and free hookup apps ever?
Red Alert Warning!
This site is just a bunch of advertising nonsense full if phishing links. I think I will regret the time I spend doing this review since I exposed my data to dubious hacks. You can never tell what comes on sites like these.
If I took one for the team, don't make the same mistake!  
Infographic: Adult Look Review