If you had high hopes for XXXBlackbook.com – get real. The place is one of the worse scam seen online, using fake women called Sweethearts, selling cam services with the dating packages and charging literally simple free services that can be found for free in many other places. Read more below to see what are the arguments we hold for the deceptive XXXBlackbook.com.
Authenticity of XXXBlackbook
Here is what the site promises to give you in the commercial section at the beginning. Please don't only fall for this advertisement because the real content of the services is explained only in the Terms of Conditions and in the FAQs. If you don't have the time to read all that, at least have a look at this review:
Unlimited email use

24/7 high-resolution for the video chat service

Access to exclusive member photos and uploaded videos

Featuring in the top search results

Get Laid Guarantee
Why is XXXBlackbook.com is an Adult Dating Fraud
All services are paid – nothing for free.
#1 – Video Chat is paid

#2 – Flirts are paid

#3 – Messaging is paid

#4 – Advanced Search is paid
It is impossible to get in touch with anyone without an upgrade that costs a lot. All those promises of free membership are a lot of empty words. Yes, you can give your data to the site for free, but you are not getting anything. Let me ask you a question – do you think that you can arrange a hookup without being able to communicate to anyone? However, you are promised a fake free guarantee, too. Here are the screenshots of all those paid services from the Terms and Conditions:



The site uses Sweethearts for entertainment purposes.
You get to be contacted by virtual profiles and you must agree to get pestered if you join the site. When you register for free, they come as part of the deal, there is no avoidance around their annoying tactics. Their main job is to entice users into purchasing one of the Gold or Silver packages. Albeit their existence is non-evitable if you join the site, you should be careful and stay away from their persuasion and do not fall for their offers:

There is no protection from fake users and fake identities.
Unfortunately, there are no security mechanisms on this site and no assurance for people you can meet online. We get that there is no chance for 100% security when meeting unknown people online, but there are ways to ensure a reasonable and pleasant dating atmosphere: 

The site sells cam services along with basic services.
Just as you try to look into paid options, this screen pop-ups into your face and you are put into a tricky situation where dating is put in a drop-down menu and accompanied with several other webcam services: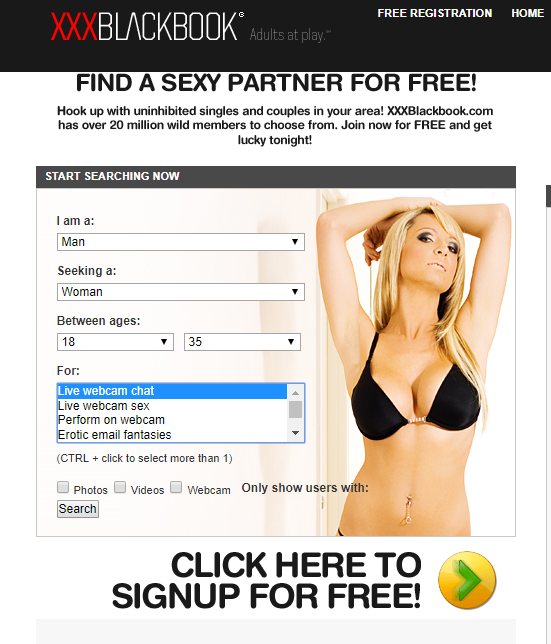 Price Tag
1 Year Gold membership = $119.95
3 Month Gold membership = $69.95
1 Month Gold membership = $34.95
2 Day Trial = $9.95
3 Month Silver = $59.95
1 Month Silver = $29.95
Busted or Trusted
We here at Adult Dating Patrol all agree that this is a very scammy place using advanced fraudulent methods. The regulations are pretty twisted and it may be hard to find your way around this place and get the hang of all dangerous plays it tries to pull off. Ster clear and you have nothing to worry about!