While I typically cover reviews of various types of hookup sites, today I want to share some more education-based information with you. Too many people do not know what NSA stands for. Why do I say this? Well, because I've been getting emails on it. For that reason alone, I'm going to cover everything I know about NSA and the true meaning behind this hookup acronym.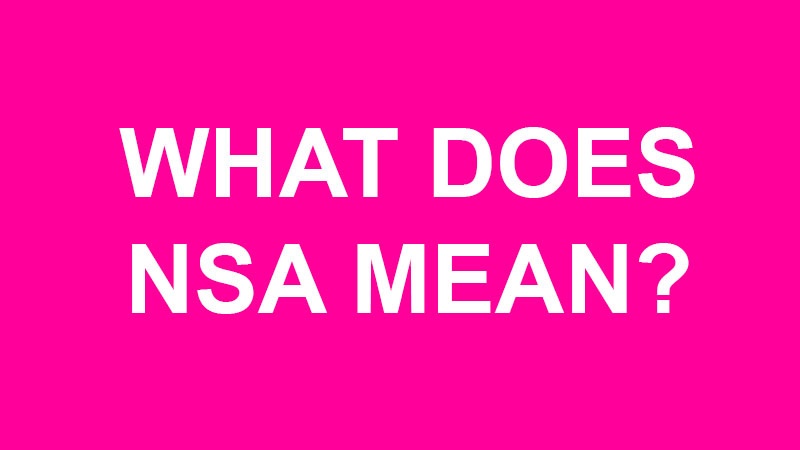 What NSA Really Means
If you've ever been on a dating site in your life then you've come across the term "NSA". You may have been confused about what it actually meant.
It's not exactly a term that you come across all of the time and the people who use it are typically the same people that you want to talk to.
Here's a brief rundown of what the term means and a few of the best places to find people who are looking for it. It's a great way of cutting through all of the noise to find the kind of relationship that works for you.
No Strings Attached
Very simply put, NSA means "No Strings Attached." It's a shorthand way of letting the other people on the dating site know exactly what you're looking for.
An NSA relationship is all about having fun without any of the problems that come along with a relationship. You're just having sex with each other and having fun.
You never have to worry about any of the drama that comes along with it. Of course, this also means that you don't get to treat the other person like you're dating them.
You can't call them up just to talk to them at three in the morning. Your only interactions should be restricted to having sex and nothing more.
Fling and NSA
One of the best sites to find an NSA relationship is through Fling.com. This is a site that's pretty much designed for people to use when they want to hook up with someone.
You can upload as many pics as you want and show off yourself in the best light possible.
Yes, you can search through millions of other people around you who are looking for an NSA relationship and they make it as easy as possible.
Zoosk and NSA
Zoosk is really all about flirting and that's why it's so great when it comes to seeking out an NSA relationship.
There are over 35 million users on it at all hours of the day and night and there's always someone who's ready to meet up with you.
There are lots of different features that you can use to engage with people from all over and find out exactly what they like to do for fun. It's more than worth a look when you want to have a good time with someone new.
Do Anything You Want
No matter which site you use, looking for an NSA relationship means that you can do anything that you want. You're never limited to the kinds of things that you can do with people when you meet them for the very first time.
You don't have to take them out on a date or pretend that you want more than just sex. The other person already knows what you're after and they're after the same exact thing.
It's a very freeing experience and you can seek it out whenever you want with no bad consequences at all to deal with.
Well, there you have it! That's everything you need to know about NSA, now get out there and try to hook up with someone local today!