Nowadays people find a variety of ways to do sex scams and games. A guy can never be careful enough, especially if you're trying to date online and use hook up services. Today on the menu we have the Tuscl review.
Tuscl is advertised as The Ultimate Strip Club List. I don't mind at all going to a strip club. But as you may well know many of the strip clubs offer some unsolicited services which can get you in trouble. So whenever I look at strip club reviews, my focus is laser sharp. I really need to find out if I'm dealing with the real thing or with some shady stuff.

Tuscl Review: What is Tuscl and How to Use It
Tuscl is an acronym for "the ultimate strip club list". I don't know if you noticed that but it didn't come to my attention at the beginning. as well. What can a poor man do? With so many saucy pictures and texts  on a website, you can't really pay attention to all the details. 
But it is exactly what you need to do. That's why I am here  – to help you avoid any fake websites. In my (humble but with two decades of experience) opinion you can get into plenty of trouble with strip clubs. This is true even more if you find these nasty places online. It's a million times better to visit a club in person.
Strip Club Troubles
Before you go for the real deal, educate yourself about the rules of strip clubs. According to my personal Tuscl review tour, you will find useful advice here: just skip to the glossary search for the related terms about strip club activities. Believe it or not, strip clubs have their own etiquette. If you miss a well-known sign, you can end up paying more than you bargained for. 
Of course, that can happen online as well if you don't read all the details as you should. 
Who Posts TUSCL Reviews?
According to the FAQs this is a website where users can post Tuscl reviews about multiple US strip clubs. However, from my experience of sites for personal ads, this is only an advertising platform. The clubs weigh in their rating by themselves and prioritize their listing based on the amount of money included in the membership they have paid.
No Profile Verification
My primary reason for not believing these are genuine user reviews is the site disclaimer. Visit the Terms and Conditions, for instance. You'll see that there are no systems in place to check if profiles are verified.  
Then, how can you assess the legitimacy of the reviews?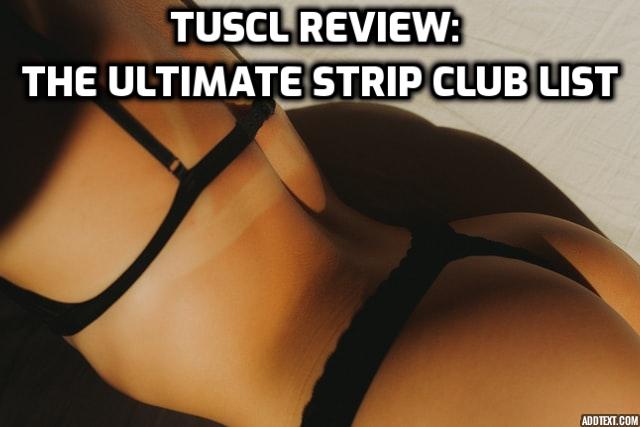 On a side note, there is a marking system which uses stars and symbols to mark community verified TUSCL reviews. Yet this is not reliable, as well, if you ask me. It is very tricky to trust things posted on a dating, escort, strip and massage clubs site by someone who pays for them. They usually write only positive reviews and you won't learn the truth with investigation by an inch. It is 100 times better to look for a legit dating site. On scuh resources you can hook up with girls for free without wasting your time. And, moreover, you'll avoid ending up in some legal trouble which will cost you thousands of dollars in fees and even worse!
Should I Sign up for Tuscl? Review Closer
I think it is only okay to do so when you want to have beginner's lessons about strip clubs. If you want to visit the strip club, why don't you go and do the stuff in person? Go out in the evening to a real place.
Many of the "online strip clubs" are places that hoodwink escort services or prostitution. You don't want to go down that road if you are in the USA. As you may well know, it is illegal. Not that I can stop you or want to give you any advice about what you do in your private life but this is the best route to take if you want to stay on the safe side! I always get plenty of great sex on casual encounter sites and other types of online dating sites. I don't see why you shouldn't do the same. That's a more effective way to hook up compared to exposing yourself to countless unknowns and risking a wrong move at every corner.