Even if I collect years of experience I still wonder how some users fall prey to online dating scams. I've reviewed hundreds of dating sites, hookup apps, and escort sites, and still, the same story goes. People believe everything they want to believe on websites even if there is evidence that contradicts their opinion. This is especially true when people looking for sex because they become mesmerized by what's on offer. If the girl is cute and sexy (men especially) get totally blindsided. To avoid becoming a victim of adult dating scams on escort sites I write reviews. Today's task is writing the Swank Escorts review. This is an escort agency in London. Let's see what's is about.
Swank Escorts Review: How Do Escort Agencies Work?
I've already mentioned that there are numerous dating agencies and escort services in London. It is convenient because there is a liberal policy for dating services. It's a huge tourist location and many people are traveling for business there. For example, have a look at this Canary Wharf review, which explains most of the things that I will also write about in this review. There are no big differences. The basic principles are the same. Most London escort agencies work with independent contractors and the agency (this for example) is only taking care of the administration part.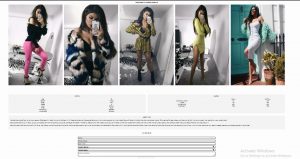 On one side, that can be a good thing because you won't mess up with the law but on the other, you really don't know what you're getting into. You need to set up your contract and arrange the booking with each girl separately.
The agency only runs an advertising platform. For example, have a look at the terms and conditions of bookings on Swank Escorts. Each of the girls has fees, but if you want to know the exact price you will have to arrange it with the girl and you're obligated to pay the full price even if it's not mentioned on this website.
The Huge Red Flag on Swank Escorts
That's one huge red flag that I always emphasize when I'm explaining payments on dating sites. If you don't know the price in advance it's easy to get ripped off. The name also indicates that this is a luxury escort website, which means that you will need to fine dine with the girls in exclusive places, as well as pay a lot for drinks and everything else that accompanies a great night out. It's up to you if you want to do it this way.

But I always recommend taking a shot at a free dating website before you get into gold digging dating services. You have great chances of meeting someone you like, have hot sex and still don't pay hundreds and thousands of dollars.
Why There Are No Visible

Swank Escort Reviews?
If a dating agency doesn't include any reviews from users is difficult to trust it. In this Swank Escorts review, you will see that the girl's profile description includes pictures, a short description of her physical attributes, rates and a section for providing a personal review.
However, Swank Escorts reviews from former clients are not visible to other users. They are only for internal use of the agency. Consequently, they are no good to you if you want to check whether the girl is exactly what you want.
My Final Opinion About SwankEscorts.com
Let me wrap up this Swank Escorts review with one thing that many escorts websites have in common. They just duplicate content (like the rest of the garbage) and use the same girls for multiple locations. Such a system can include travel and overnight expenses.
Also, you can get into a lot of trouble with the law because the regulations for escorts are not the same in all countries, not to mention the risks for STDs and all other kinds of frauds and troubles you can get to with people you don't know. On authentic dating websites, you have a chance to set up your own pace and get late for free.