There is not a person I know who is not willing to have easy sex, and when someone hears of super easy sex available online, he or she becomes all ears. It is a catchy phrase that sounds hot, convenient and fun and is attractive to users. This contagious slogan sounds awesome in reality but when it is a scam, it is a vile method for clicking on untrustworthy content and dubious dating services. This is what the dating tool SuperEasySex.com (not to be confused with FreeLifetimeEasySex.com) does, and if get the impression that the site design is somehow familiar in terms of design, don't be so surprised because we discovered that the same company uses the same design for marketing same content under various names.
Authenticity of SuperEasySex
Apart from the main site image which belongs to several other dating service providers, most of the activity and the content that circulates in the dating center is created by fabricated profiles who create promotional messages. The automated content is not from only one single source but also features extra promotional content from networks, affiliates, and third-party service providers.
All in all, it won't be easy to stay free from ads and commercials, not only on the site but also in your inbox. This policy is clearly stated on the site, and, even if you have the chance to opt-out from specific subscriptions, it will significantly worsen the quality of the services.
Here are some added arguments about why is SuperEasySex.com a fake genuine dating site.
Why is SuperEasySex.com a Fraudulent Dating Website
The arguments are not new but the misuse is still as fresh as it is the first time:
To engage customers, SuperEasySex.com uses fabricated girl profiles called Love Stars.
Nothing can be certain in the virtual world, especially now, when it is so easy to create a fake person. SuperEasySex.com uses the advantages of the online world to lure users into engaging on the site attracted by virtual profiles only with the intent to get upgrades or buy extra services. This is what the regulations say: "You understand, acknowledge, and agree that some of the user profiles posted on this site may be fictitious or models or bots related to our "Love Stars" ( ) program. Our LS work for the site in an effort to stimulate dialogue with users and to stimulate user participation on the Website and Services, advertisement of the Website and Services, and the creation of user profiles. The LS also monitor user activities and communications to ensure compliance with our Terms and Conditions. You understand, acknowledge, and agree that the information, text, and pictures contained in the LS profiles do not pertain to any actual person or member, but are included for entertainment purposes only."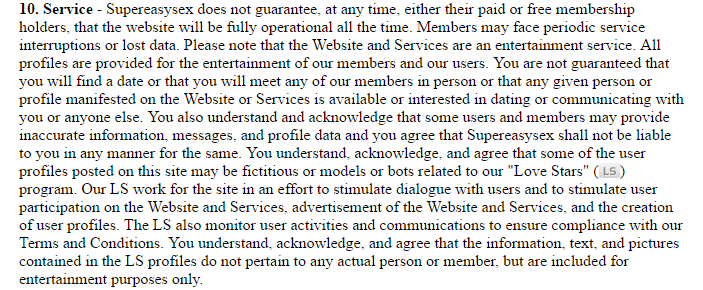 Automated messages are sent by the system to entice action by users.
Instead of receiving a sexy chat from a real girl and expecting to get a quick hot sex date soon, you will actually chat with a robot. It is complicated to make a difference between what is real and what is fake online, and this is why Adult Dating Patrol works to help you recognize situations when you are duped. The Terms document may state this, but hardly anyone has the time to read all those documents: "You further understand, acknowledge, and agree that, from time-to-time, LS may contact Website and Services users and members via electronic messaging, including for example, email, instant messages, and SMS, for purposes of encouraging further or broader participation in our site's Services and/or to monitor user activity. Messages from LS will contain the uniform designation "LS" or "Love Stars" to notify the user or member that a message has been received from Love Star(s). In the event the user or member responds to a LS message the user or member may receive one or more additional personal or form responses from the LS."

You must agree to share your information with partner companies.
This is one of the very dubious methods for misusing user information. While it is true that there is nothing illegal to this practice, it is basically a scam when you discover that your details have been given for free. Businesses nowadays make huge efforts to build emails subscribers list – massive email lists generate more profits. This is how you will be used on Super Easy Sex: "Specifically you agree and acknowledge that your profile and related information and content may be utilized and displayed on other sites which are owned by related companies or authorized services providers ("Network websites")."

Unrestricted and non-publicized changes to the Privacy Policy.
We assume that most users don't read privacy policies in detail and this is the main reason these online dating scams thrive. However, in the case of SuperEasySex.com, even if you have read the full content of the site privacy policy, you can still be under a potential scam threat because of unforeseen and unaccepted changes: "This Site reserves the right, in its sole and absolute discretion, to revise, amend, modify or revoke this Privacy Policy at any time and in any manner to the fullest extent permitted by law. Changes to this Policy will be effective by posting revisions on the Site or other notice as required by applicable law."

SuperEasySex.com has poor online reviews from several resources, and most of the reviewers agree with 90% of the arguments stated here. Credibility from more than one authority is always welcome and in this case, there is no doubt that you may be way better off if you use some other dating tool:


Price Tag
$2.97 for a 3-day trial with automatic renewal at $39.95 for a one-month subscription

$29.95 for the first-month subscription

$59.95 for three-month subscriptions
Busted or Trusted
It is way more likely that you will get an inbox full of marketing than an inbox full of sexting messages, chat invites or hookup date updates on SuperEasySex.com. The interface with hundreds of sexy profiles looks enticing and promising but it is just a selection of borrowed photos that is in no way connected to the site and that it is also used on the networks websites.
If you come across SuperEasySex.com, make sure that you remember the fraudulent tricks it applies because you will be able to recognize them on additional servers and avoid getting scammed in a similar way across the fake services networks.
If you want to sext, send videos, chats, and everything that I mentioned above, then do so by using this site here BEFORE attempting to use SuperEasySex.