How about another free lifetime offer that is not at all for a lifetime? It is evident that the same scam creator has used a similar name trick and just added the suffix "booty calls" at the end of the Free LifeTime segment used on several other sites to make a new location for welcoming and ripping off new fresh dating prey. FreeLifetimeBootyCalls.com is not a place to get a booty call. If someone succeeds, they are welcome to dissuade us in the comments but our verdict comes down to a simple decision that we are dealing with yet another fake dating site.
Authenticity
If you have a look at another of the reviews posted here, related to Free Lifetime websites you will note most of the scam methods that FreeLifeTimeBootyCalls.com uses to dupe members. Without ditching the arguments in the related reviews, here we will add an extra overview of how this illegitimate dating website does business so that you get a picture of all big and small methods for producing the rip-off fraud. The key fact that is deceptive is the payment of the membership fees, The sums noted in the larger boxes made to select a package by clicking are smaller than the ones you get to pay if you go for the full deal without checking the offer in detail. Let's check out how is this structured in practice.
Why is FreeLifeTimeBootyCalls.com a Fake Dating Service
Most of the facts that are disclosing FreeLifeTimeBootyCalls.com are based on overselling fake products and sharing data privacy.
FreeLifeTimeBootyCalls.com's main goal of the marketing policy is delivering sponsored content.
This statement is clearly stated in the site documents – all activity, content, promotional messages and subscription deals are made with the sole intention to market the services of the collaborating companies. There are plenty of additional services that are on offer and when you get to the next point of this review you will get a crystal-clear picture of all products on sale. For now, let us just explain the scam behind this "mission" – the more people become members and start looking for sex dates, the larger is the database for selling services: "Our goal is to deliver advertising and other commercial or sponsored content that is valuable to our members and advertisers. Below is a list of trusted 3rd party companies we work with."
This fake dating site is just a selling platform for extra services.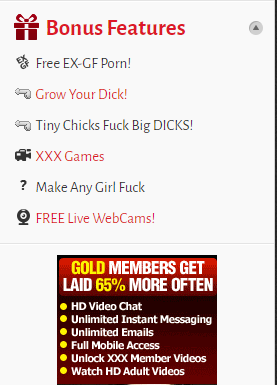 When you register on the site, you will get free access but as you go along with the process and try communication with a girl, you will quickly learn that you are here just to get blasters of ads for sex cam services, XXX movies, and sex help gadgets because messaging is a paid service. Have a look at how we got a message and were unable to read or reply unless we upgrade:
FreeLifeTimeBootyCalls.com has a false promise for a 65 percent higher hookup rate.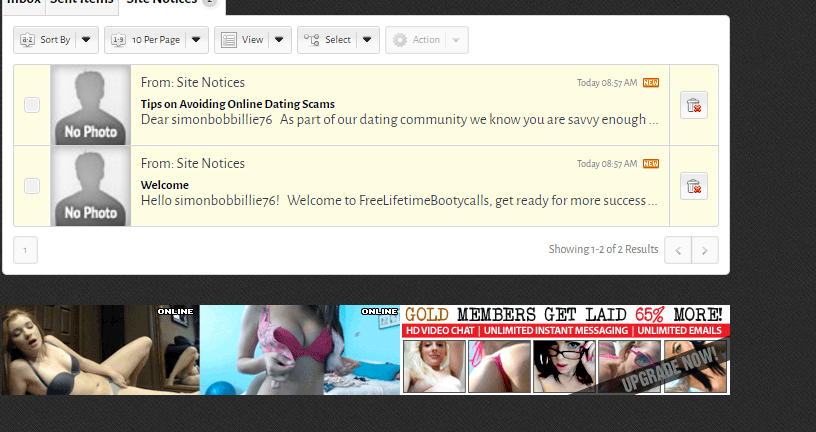 This is another fraud tactic serving only for upgrades. The 65% guarantee has no proof in numbers or statistics but is placed out of the blue to cajole potential members into thinking that they have more chances with an upgrade. In the end, it is impossible to communicate without an upgrade, so FreeLifeTime BootyCalls.com just uses this claim as a clickbaity link:
The site contains profiles from fake email generators.
One of the chat messages came from a very cute, sexy blonde who got a decent number of messages from other users saying that she is gorgeous – she was a cutie but by performing a reverse Google image search we found out that this is only a profile from a fake email generator. Here is an image that contains the search results: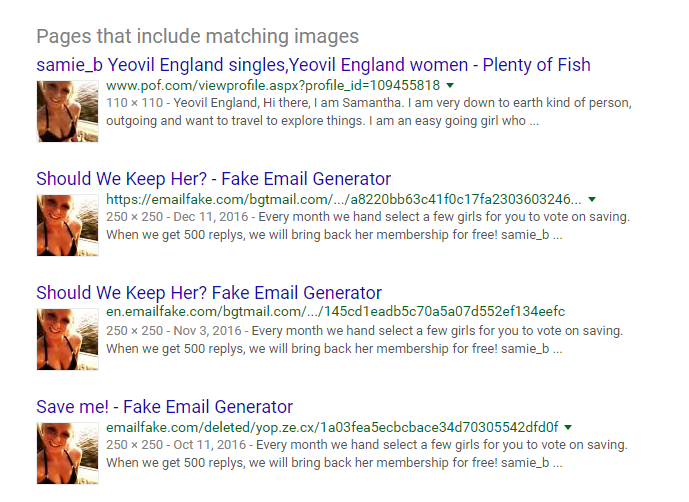 Fake email generators are used to create phony profiles – you may as well by now know what is the purpose of these virtual fake profiles on adult dating websites. Yet if you don't, it is worth mentioning that they are just a marketing material and will not even get you an "s" from sex.
Marketing policy is changed without any notice.
In line with similar scammy practises of non-publicized privacy policies, here FreeLifeTimeBootyCalls.com applies the same principle on the marketing policy, letting your data free-float with no restrictions among partners and in time: "This Site reserves the right, in its sole and absolute discretion, to revise, amend, modify or revoke this Marketing Policy at any time and in any manner to the fullest extent permitted by law. Changes to this Policy will be effective by posting revisions on the Site or other notice as required by applicable law."

Price Tag
Let us explain how is the service sold with a fake price, when in fact, it is more expensive. Here are the published fees in the promotional boxes:
$2.97 for a three-day trial

$29.95 for a monthly fee

$24.95 per month for a quarterly deal

$19.95 per month for an annual deal
Services actually cost extra and are visible only after you say yes to the offer unless you pay attention to the minuscule print:
$49.95 for a one-month membership to FreeLifetimeBootyCalls.com

$39.61 for a one-month membership to the extra video chat service

$28.87 for a one-month subscription to VideoErotic.com
Busted or Trusted
It is clear that FreeLifeTimeBootyCalls.com works in a very similar ways as the FreeLifeTime "franchise" (if we could call it that). Regardless of whether you get fake "sex", fake "booty calls" or fake "whatever", the only lifetime value you will get is a hard-learned lesson on how to fall a victim to a dishonest rip-off method. There is an easier way to find great adult dating websites and lessons learned from someone else's experience are less painful. Give credit to our judgment call and keep your credit card far and away from FreeLifeTimeBooty Calls.com.