Hooking up with a milf is one of the best sex dates you can have. Adult dating with older women is one of the gems of hookups. Consequently, where is gold, there are the diggers who like working in dishonest ways. SeekingMilf.com is a deceitful hookup site which will lead you onto clicking 'subscribe' and thinking that you will pay only about 3 dollars for a trial or around 25 dollars for a month of use, while charging you $100 if you don't keep your eyes open.
SeekingMilf Ripoff Reports
Remember that these photos are not real and that they are uploaded only for advertisement purposes. On the other hand, they may belong to a fantasy profile. Therefore, regardless of their origin or association, members get duped and create all types of fantasy scenarios where they have awesome one-night stands, tons of casual sex and wicked hookups. If you actually read what you are signing for, you won't be able to skip the fantasy profiles feature on SeekingMilf.com called Online Cupids: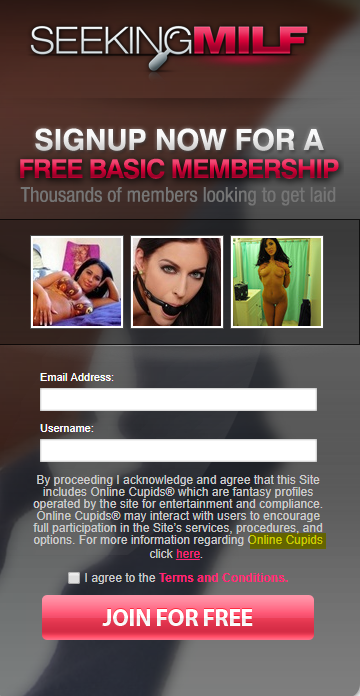 This fake app for sex dating over-promises, and under-delivers. The promises are:
Ten times more chances to get laid when you upgrade
Sending unlimited quantity of messages
Access to extra features
Why is SeekingMilf.com a Deceptive Adult Dating Site
How do the Online Cupids scam you? In multiple ways, working as agents on behalf of the company that created the site, by computer profiles or by hired third-party contractors, by sending upgrade messages, by chatting you up to resemble a real hookup chance, as well as by sending IMs when you sign in, and disappearing if you try to reply without any paid subscription. The first scam is – nothing is for free on 'Seeking Milfs':

You will get electronic messages which are sent by the fake profiles. If you don't start talking to one, this casual sex site reserves the right to pester you with some more of the same:
Messages sent from our Online Cupids® service may be automatically generated with no human involvement, and Online Cupids® messages and/or correspondence may be generated by third-parties hired or contracted by Us. The Online Cupids® service is also intended to proactively monitor user activities and other communications to ensure compliance with Our Privacy Policy, internal operating policies, and Our Terms and Conditions.
Because SeekingMilf.com works across a network of adult dating sites that don't produce pure apps for sex dating, your profile data will be repurposed on other sites and your most intimate and personal details will become a property of this fraudulent hookup site:

Real sex dates between you and the Online Cupids are imaginative events. This is how they operate – they are present until you get addicted but then they leave you to see that not all is rosy on SeekingMilf.com. On the contrary, chances of success are very poor.
You understand, acknowledge, and agree that no physical meeting will ever take place between you and the individuals providing our Online Cupids® service, and that the exchange of messages between you and the Online Cupids® profile is for entertainment purposes, as well as to encourage further or broader participation in our site's services and/or to monitor user activities.
Your endangered privacy will be the least of your problems when you see how much you need to pay. Here is the credit card details page that opens up whenever you try to see chat messages or view more profiles: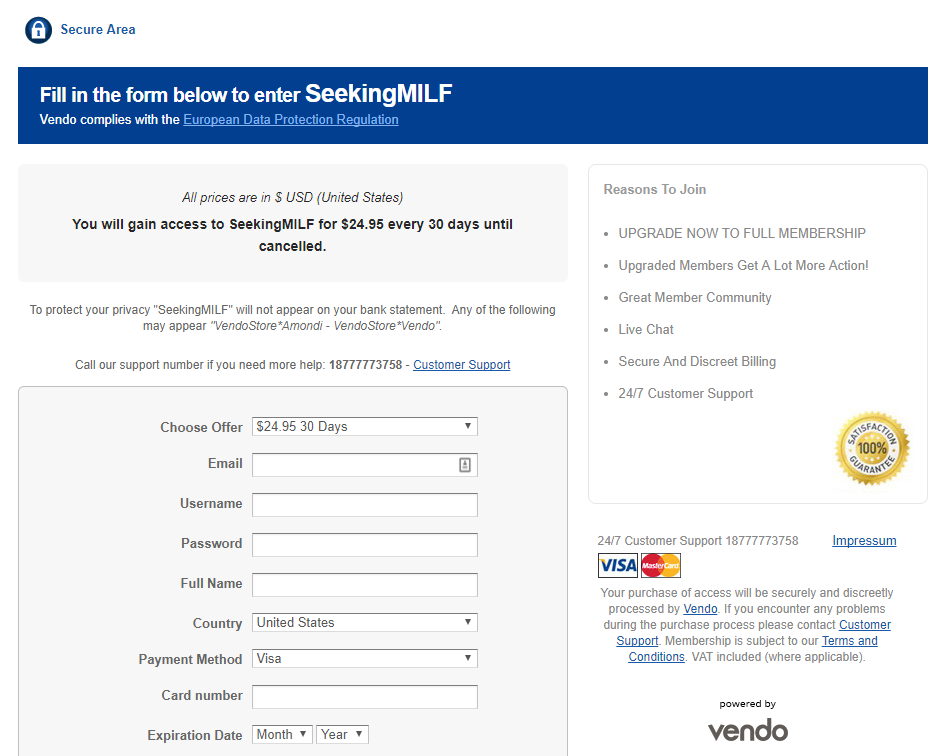 The only problem with this subscription is that it is not the full picture. Scroll down the screen and you will find boxes already checked for more than one service: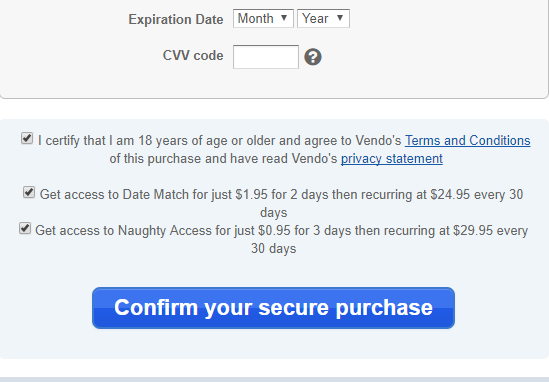 If you catch the fraud, as we did, and try to leave the screen, looking for casual dates on actual hookup sites, SeekingMilf.com will try to keep you by offering a 30% discount. But make no mistakes – the boxes for the extra services are still on. As you can see, Seeking Milf is trying to milk you in any way they can.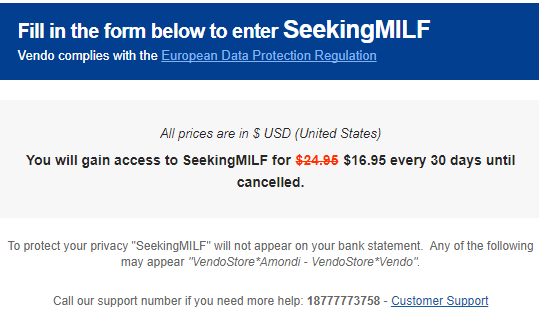 Price Tag
3-day subscription for the main service is $2.95
30-day subscription for the main service is $24.95
90-day subscription for the main service is $69.95
Busted or Trusted?
Let's skip all niceties about SeekingMilf.com and call it for what really is, a fake, deceptive rip-off hookup app which will never deliver a single of its promises. Look for the best hookup apps from providers such as Milfplay.