Most online dating is performed in secret, so no wonder so many deceptive adult dating websites like to endlessly exploit the word and its similar semantics in the title. People are looking for affairs online and like to keep it discreet and private. If you are looking for a date in secret or to spice up your life, or even if you are just looking for casual dates when you are single, you will not find it on SecretFlirtContact.com
Authenticity
SecretFlirtContact.com is associated with Festivus Media. The rest of the deceptive adult dating apps under the umbrella of Festivus Media are MeetLocalMatures.com, MaturesContactSearch.com, SecretMatureMarket.com and many others. I am sure that we have not even come to see everything that is related to the scam works of Festivus Media. And they are evidently targeting mature people or just people who like dating milfs and cougars. Having in mind that almost 80% of the adult dating population are looking to date milfs, SecretFlirtContact.com is another pot of gold for Festivus Media.
Why is SecretFlirtContact.com a Fake Hookup App
Several key aspects are helpful to expose the scam presented at SecretFlirtContact.com We will explain here, one by one, in which ways you should be vigilant to stay safe and don't fall a victim to this scam.
Shared Privacy Permissions Could Exploit Your Profile Features
We have mentioned more than once that SecretFlirtContact.com is a part of the network of repetitive adult dating websites coming out of the oven of Festivus Media. They keep their net widely spread and multiply the collected preyed profiles on all of their sites. If you upload a photo or post something on SecretFlirtContact.com, it is like you are doing the free giveaway. All that you upload automatically becomes a property of SecretFlirtContact.com. Your persona will be used as a bait for other, and you have paid for that!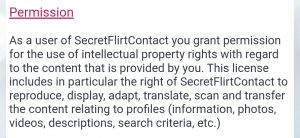 You Will Need to Use Added Paid Credits for IMs
Yes, as usual, SecretFlirtContact.com is not free. In a similar way explained in other reviews about the tricks that these fraudsters are trying to pull off, you are dealing with commercial adult dating. Your registration is free in so far as you serve as a commodity for this conning adult dating site to create a pool of members they can call a membership area? Once you are in – it is evident that you will not only need to pay for the basic subscription, but also for credits. No credits – no chat!
Fake Staff Profiles Will Cajole You to Stay Online and Spend Money
On top of everything, you and some other poor newbies may be the only real people in the membership dating area. Can you guess why? As we don't want to keep you in the dark for too long, let us shoot it straight to you. It is because the member's area is populated with virtual profiles that are not real people. The photos are fake, the sex chat is fake, the bounty of emails is fake. Therefore, if you thought that suddenly you turned into the hottest hunk in the area, the truth may be a bit disappointing. Regardless of your hotness levels, you will be duped by fake computer bots.
Price Tag
£1.50 for 1 credit
£7.99 for 8 credits
£22.49 for 25 credits
£39.99 for 50 credits
£79.99 for 100 credits
£219.99 for 200 credits
Busted or Trusted?
Keeping it short and sweet, this is a done deal. SecretFlirtContact.com is a huge fraud. Make sure that you don't raise your hopes too high. This is not the place for getting laid in secret. For mature dating, try Milfplay.com, for example. For sweet quick one night stands, go for Instabang. Problem solved. Members are happy. We have put the fraudsters in place. Everyone seems to get what they deserve!