MySecretFling.com is a part of a fraudulent network of adult dating websites associated with many scammy tactics for taking your money. The rip-off on this hookup app is double – you are not only being charged basic pricey subscription rates but you need to purchase credit bundles, too! Overall, getting laid on MySecret Fling.com will be costly, if anything happens at all, considering the fact that they employ a bunch of fictitious profiles to populate the site!
MySecretFling Reviews:  Not Great!
All great online dating scams begin with a great story full of abundant booty call potential, which is, in practice, very far from the truth of what happens once you join in. MySecret Fling.com promises 100% free subscription, but are you getting anything for it? Here is the front screen false story: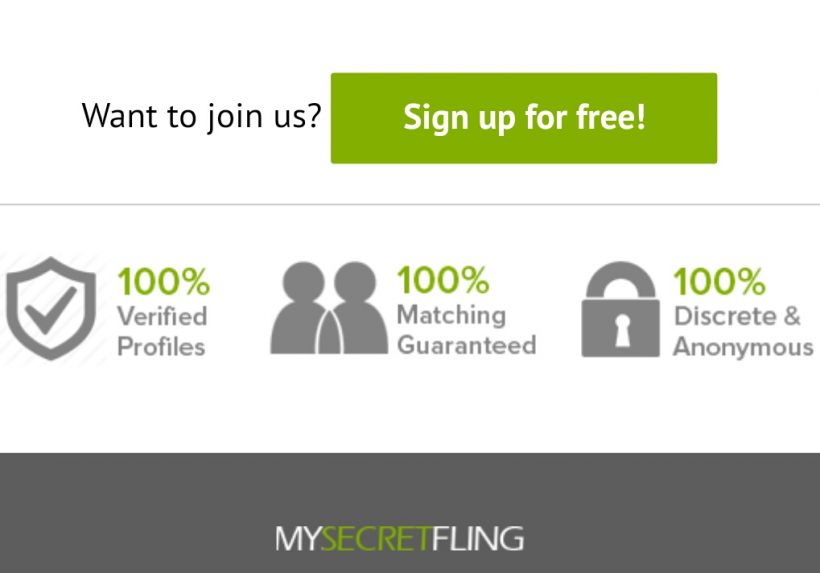 Please don't be a part of this "only fools rush in" because hasty clicks are what make these fake tools for adult personals to stay in business for as long as they do. In case of hookup sites, slowly does it.
Why is MySecretFling.com a Fraudulent Hookup App?
Now, let's look into more detail about all tricks and twists applied by MySecretFling.com to make its hookup scam work.
These adult dating services often can't pull all of their tricks independently and must engage partners. Without getting into the genuine intentions of the partners (that is a completely different question you may need to be worried about) we would like you to pay attention just to the following provision of the Terms and Conditions that reflects the overall liability of the main site:
Connective Development B.V. may receive traffic from third parties in exchange for a fee or for free. Such third parties are solely responsible for their ads, content, and links in which they use on their website to send traffic to Connective Development B.V
As you can see, there are no guarantees about secure sex dating on MySecretFling.com.

The key worrying feature includes the fictive profiles created by the site. You must agree to their engagement by signing up. This "small" scammy detail can be easily missed with all those age warnings. Above all, you should be aware that you get no safe options forever meeting any of the fake profiles – they are there just for flirting and enticing you to buy a full subscription.

And that is the second biggest problem of MySecretFling.com – you get the basic subscription for money, but you can't send messages unless you buy additional credits: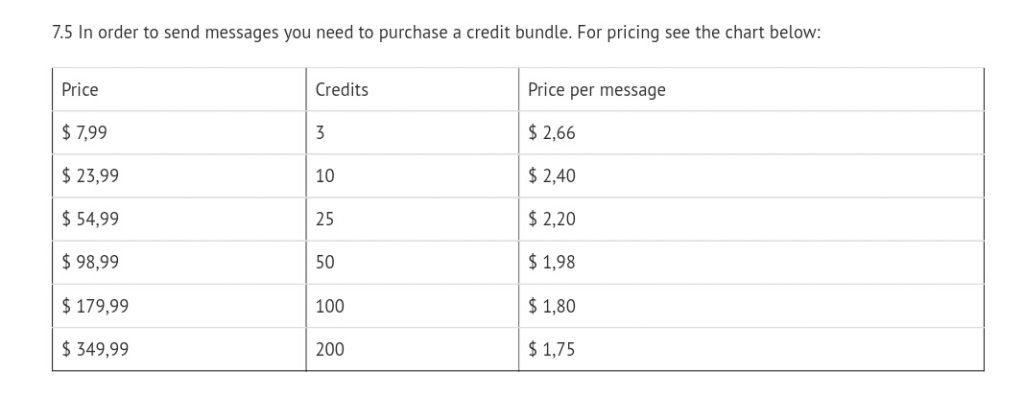 Certain features of Connective Development B.V. or our affiliated websites require a paid subscription or the purchase of credits. Unused balances may not be redeemed for cash and cannot be refunded, except if it is required by applicable law. Unused credits will expire after three months.
That is not the only issue with the credits – they are time-limited, non-refundable and bear extra costs in taxes:
All the rates are increased with VAT and other taxes by legal means…
Don't let me even start about the marketing and the privacy issues, which about nicely wraps up the authenticity traps mentioned in the relevant section above. Not surprisingly, poor hookup apps paint the adult dating world with unrealistic promises to dupe users with high hopes.

Cost to Join My Secret Fling?
The cost for the basic packages are:
$15,99

1 month = 

$ 15,99 per month

$39,99

3 months =

$ 13,33 per month

$64,99

6 months = 

$ 10,83 per month

$74,99

12

  months = 

$ 6,25 per month

However, don't forget to include the credit costs on top of that!
My Secret Fling Final Review Score:  "F"
If you want to keep things secret, you may easily fall prey to adult dating sites which use illegitimate methods. Not sharing secrets about your sex life is expected, but this is exactly what businesses that don't belong to the legit dating sites use to pull tricks. A shared secret may sometimes save your butt. If you want to avoid the scams such as the one performed by MySecretFling.com, stay tuned to this site for updates