LocalCougars.com is another site dedicated to meeting cougars and milfs from the UK. The way things stand at the moment, it seems just as fake as some of the other dating websites for meeting mature women we have recently investigated. Chances of finding someone to get laid are slim. The site is restricted to the UK speaking area, which means that includes special platforms for members from the UK, the US, Australia and South Africa. No exotic beauties here obviously!
Authenticity
Apart from the photo and the looks, there is hardly anything authentic about LocalCougars.com. It is a fake service connected with a network of websites about mature women. It is not like they are hiding this fact, but that doesn't absolve them of their responsibilities to give good service to their users. Judging by the previous reviews of deceptive dating sites that belong to the network, you will be duped again with expensive upgrades, virtual gifts and impossible chat messaging,
Why is LocalCougars.com a Fake Milf Dating Site?
You will be the judge of the following arguments we have collected from the review:
You Will Share Your Data With Multiple Websites
To perpetuate the scam in multiple resources, you can find your profile data shared among the dating services that are included in the network. That doesn't assume that you have given them the data – they are sharing that by default. It is all explained in the Terms and Conditions, and you agree to this with registration. So, don't be surprised when you find your profile picture on another site or when someone you don't know warns you about it!

Gifts and Credits for Desperate Users
You are joining for free. However, nothing else is for free. You must get a subscription to chat or get in touch in any other way. I will be explaining more about how the scam with the so-called free subscription works in the next paragraph but for now, let's stick to the credits – they are just an alternative for robbing the customers with new fake incentives:

Messages Are Unreadable Unless You Get a Paid Upgrade
In a similar way as with the other websites in the network of websites, LocalCougar.com is making everything above the limits of freemium users and only available for payees. I winked at Rita, but I couldn't send her a message. Then, she got back. But guess what – again, I couldn't get back to her without purchasing a subscription!

This Prompt Shows Up Whenever You Try to Do an Activity
All times when I tried to send a message, or view photos of a cougar that I liked, or access additional features. I couldn't do it. I just had to stop and stare at this screen that required my credit card details.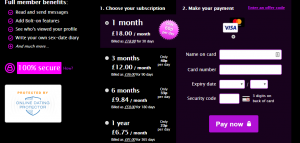 Price Tag
$18 for 1-month membership
$36 for 3-month membership
$59 for 6-month membership
$81 for 12-month membership
Busted or Trusted?
LocalCougars.com is a scam with fake profiles, fake photos and killer upgrades. Even when it seems that there are real persons here, you can't do anything unless you pay some hot money. LocalCougars.com is for a narrow audience, and, if you are looking for some wider outreach, go and look for one night stands and real hookups somewhere else!