How did we get here? If you wonder where is "here", then let me tell you it is the same place I have been many times before, and I am sure you have, too, if you had read some of the content on Adult Dating Patrol. With a risk of sounding repetitive, boring and annoying, we still must work through another copy of Nautell network, this time called FreeHookupSearch.com. Would you like to see an offer of free membership, and then get pestered with premium services, including xxx movies and webcam videos? If your reply is "no" (and I am sure it is) you will find an awesome use of this review, where you will be able to see all tricks of FreeHookupSearch.com through pictures and avoid the fraud.
Authenticity
Almost all fraudulent methods are included in the Terms summary, but if you are not an experienced dater, you will either don't know where to look or how to interpret the results found. The team at Adult Dating Patrol is at your service to jump in when needed by offering a first-hand and long-term history of adult websites browsing  So, I suggest you go through the summary terms included in the screenshot below, think about each of the bullets, and see if you can find suspicious provision which looks fraudulent. Later, we will explain all in the next section, but for now, I suggest training your scam muscle by thinking with your own head:

Why is FreeHookupSearch.com a Fake Dating Service
You need to pay to use FreeHookupSearch.com.
First of all, have a look at this quote from the Terms and Conditions of FreeHookupSearch.com – initial access is free, but nothing else. If you skip the upgrade step and end in the lively activity center, don't get too hopeful, because we will get you to the truth of this website in a while, once you see the screenshot of the promises on the home page, as well as the upgrade screen:
"You may register as a member at no cost. As a member, you may use some, but not all, of the features and services available on the Website. To access or use additional features and services, including the ability to communicate with other members that are subscribers, you must become a paying subscriber to Free Hookup Search. Absent special offers, you understand that if you are not a subscriber, (1) you will not be able to use all the features and services available on the Website; and (2) subscribers and nonsubscribing members will not be able to use the Website to communicate with you".

So much of the free membership that is promised to be 100% on the home page – you obviously need to upgrade to be able to hook up. I, for example, got my hands tied and couldn't send a single message without the upgrade screen being constantly into my face:  

The site sells webcam services and porn videos.
if you wanted to get on with a cam girl, you would have joined a cam site, right? As a matter of fact, you can't even tell if the girl writing you in the FreeHookupSearch.com chat is a real girl, a virtual profile, or a cam model. It is so easy to get scammed. Just look at the quote and the flashy screen for premium services upgrade:
"Free Hookup Search' premium services include various opportunities to find and meet additional people, to customize your profile, and to boost your profile so more people find you. Free Hookup Search also offers the ability to view live cams and featured shows on the Website." 

In its essence, every path on FreeHookupSearch.com leads to "Rome" or to this premium membership upgrade where a single monthly package will cost you over a hundred dollars if you say yes to the offer.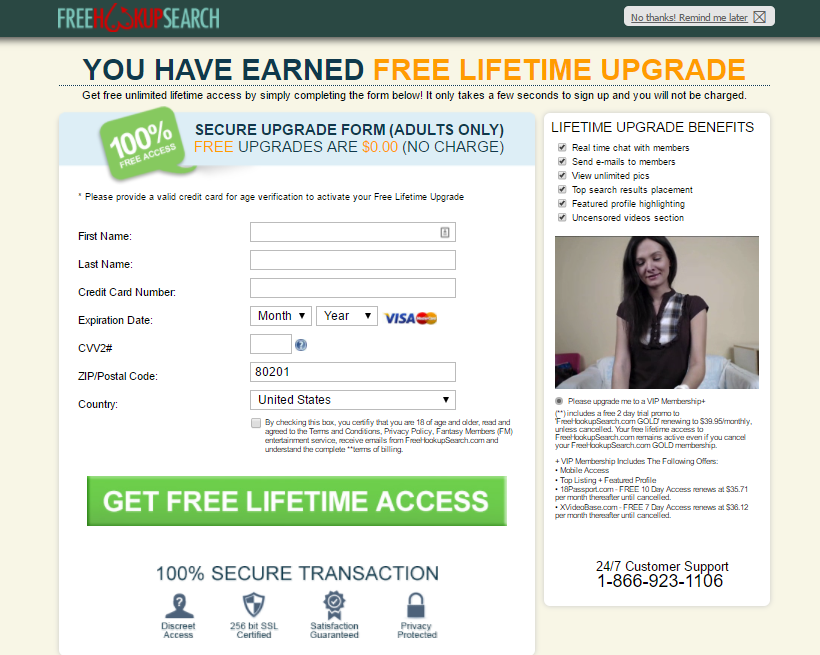 Your email service will be cut without warning.
Although you will start with a free email service your privileges may be cut at any point. Is this even possible, you may ask yourself? Obviously on FreeHookupSearch.com everything is possible, even in this age of free email all around:

Price Tag
VIP Membership including mobile access, top listing, featured profile – 2-day promo renewing at $39.95 per month
18Passport.com membership – free for 10 days renewing at $35.71 per month
XVideoBase.com membership – free for 7 days renewing at $36.12 per month
Busted or Trusted
No questions that FreeHookupSearch.com is busted. It was even busted before I got to start the tour because I recognized the fraud immediately. However, all of you need some extra arguments and persuasion, and I like being thorough and reasonable. Do you find this review helpful? Strut your stuff and leave your comments below – you never know if you will be the key factor to help someone else avoid the fraud!