By now, it takes less and less time to uncover the deceptive working methods of unprofessional service providers. Our team is learning how to find new holes in the dark business and expose the untruthful products to users who are not that skilled. This is just normal because you do not spend so much time online to be able to see through the veils. If you find yourself scammed don't beat yourself about it, but cut your losses quickly and become more vigilant next time. Here is a helpful guide to know how to deal with AffairHookups.com troublesome services next time when you see something that is given for free, and it is not so.
Authenticity
As already mentioned when I did the Milfs Hookup review, AffairHookups.com doesn't kill with originality. It is copied essence masked with different names and targeting various audiences. Those who know a bit about online scams will not take long to find one here. If you need help on how to navigate through the site to see what is wrong with it – here are some hints that will be elaborated below in detail: the site uses fabricated profiles that send computer-generated messages to users with the intention of hooking them up for the one-month or the three-month subscription and it has very critical reviews.
Why is AffairHookups.com a Fraudulent Dating Website
AffairHookups.com uses Online Cupids to lure users into the upgrade. 
Here are the tasks of the fabricated Online Cupids:
Monitoring activity
Educating users about features and communication
Stimulating conversation
Encouraging broader participation in the services
The Online Cupids send nonhuman messages.
The meaning behind nonhuman is not that the messages are cruel but that they are not real and authentic. They are previously prepared texts by software which can be sent to multiple users at once. So, while you may think that you are getting cool sexy messages from a hot fling, you will, in fact, get rubbed off by fake chatting

The number of critical reviews outweighs the positive.
In fact, all top reviews related to AffairHookups.com were negative. The top results are typically the most relevant results with integrity and authority, so seeing them all at once like I share with you in the next screenshot is a worthwhile proof.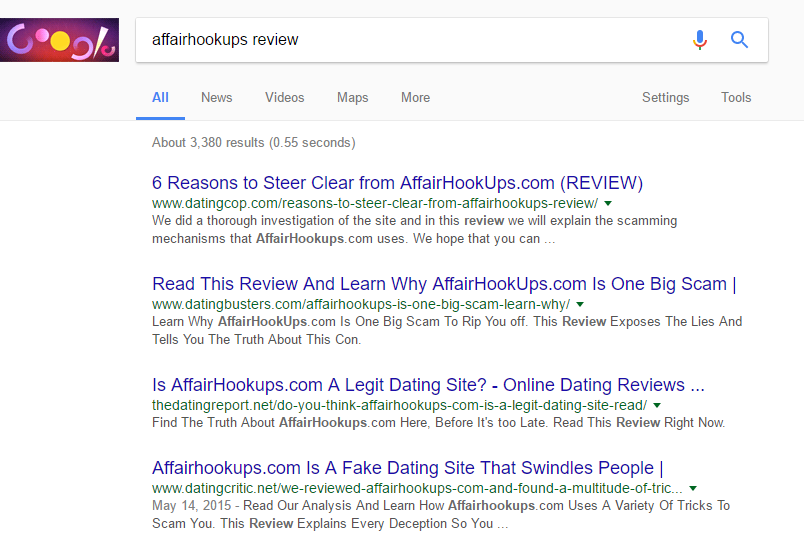 You need to buy credits for SMS messages.
It seems so that AffairHookups.com uses a separate SMS service which is charged with credits that are purchased additionally over an extra menu. On top of that, your card is pre-charged or preauthorized even if you are a free member. You know the drill –  they promise the refund 72 hours later and you forget to cancel the preauthorization, only to find out later that you are still charged with the preauthorization charge: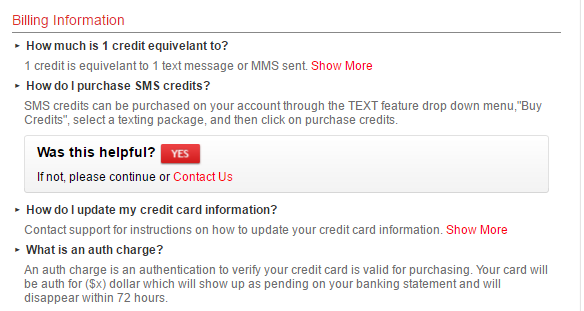 You are paying interest to overdue payments.
Did you notice this small detail? I bet you didn't. If you, in any case, miss a payment, you will need to add an extra 1.5% interest to your monthly bill. Let's not think about how much will the total sum be if you miss a three-month upgrade! Here is an excerpt from the Terms of Use:

Price Tag
$29.95 for a 1-Month Membership
$69.00 for a 3-Month Membership
Busted or Trusted
Affair Hookups is deceptive and will tickle and trick you into signing up for free only to discover that payment is needed to be able to use the services at all. It will send you computer-generated messages from fake women, and on top of all this, charge you extra for texting or charge an interest rate if you fail to pay a monthly rate. Overall, very poor reviews combined with overcharging don't speak good stuff of AffairHookups.com.