These days, adult dating sites that are scams compete with the faulty features they present to their users. Some employ more than one method. Others have several of them, and just repeat them on a number of websites. The third group of websites is just pure garbage. For example, MarriedCafe.com seems like nothing special. But on the other hand, it is so nicely advertised, I guess that's why most of the users decide to join the site and become members.
Why is MarriedCafe.com a Fake Dating Site
It wasn't so difficult to find out that MarriedCafe.com is a scam. You don't need to pay. You can get access to the site even with free registration. The free registration includes filling out a profile, but this is not so boring as on some other dating sites. It's fairly short, yet you still need to fill in some details, provide the profile descriptions and give information about who you are. Then you get the access and you have a chance to see what MarriedCafe.com is all about. There is a drop-down menu with the usual stuff: the search box, the chat box, the members' area, and the administrative links. Here are the biggest problems with MarriedCafe.com:
Only 3 Same Profiles Show Up in The Search Results
Regardless of which search filter you apply, you always get the same search results. The filters enable searching by location, so even if you say that you're from California, from New York or from Pennsylvania, you will get through these ladies below. There is a bunch of other girls that are like virtual profiles. We somehow wonder if these three girls here are real at all or just some nice ladies that have decided to join a site that looks decent and have now even forgotten they have a profile created. It seems so because what on Earth you're going to do with only three women dispersed across America?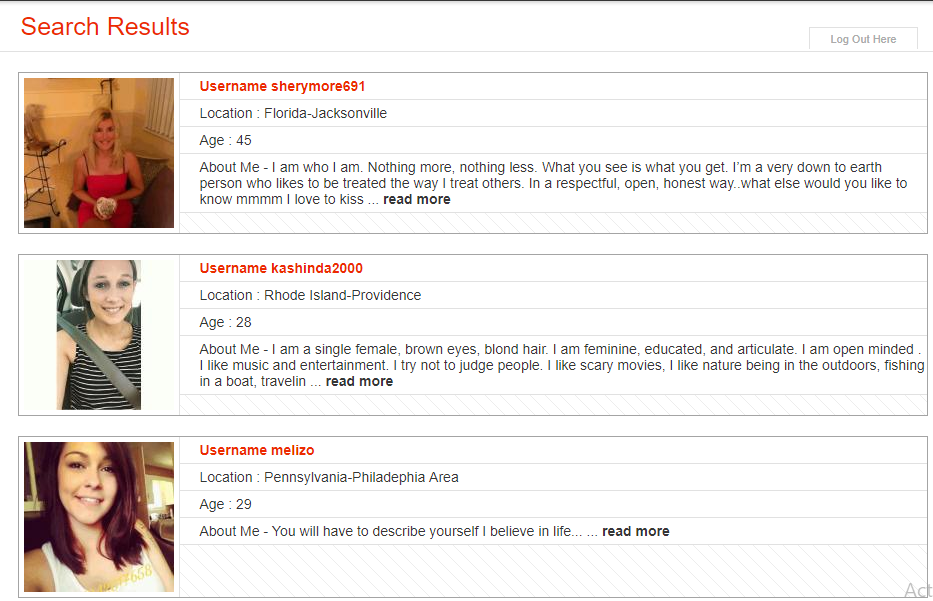 Paid Subscriptions on MarriedCafe.com
The most important thing you should keep in mind is this: Even if you don't get an upgrade, you get contacted by profiles which are not at all related to the girls we mentioned before. A few checkboxes open up and they send you messages. However, if you tried to reply, you wouldn't have been able to do so, until you got one of the subscriptions. Unfortunately, it seems that Marriedcafe.com is just using the classic fraudulent methods with sending fake messages from fake women where you don't have any chance to get laid.

Price Tag
1-month subscription will cost you $24.95
3-month subscription will cost you $21.65 per month
6-month subscription will cost you $16.65 per month
Busted or Trusted?
Without a doubt, MarriedCafe.com is a huge scam. We can't even believe it how far can dating sites go in pulling off these casual sex scams. They don't even try anymore! Nowadays, anything is possible on a site to fool people into getting a subscription. In this case, some three ladies that may be the only genuine persons on the site. All of the rest are scammers and fraudsters that are trying to empty your pockets or clear out your credit cards.