With the curious name of Instashag.com, most users would jump through hoops to get an opportunity for sex dating if this adult dating site was real. However, for Adult Dating Patrol's team, the scam was obvious from the start itself – it ruins all your chances of hooking up and trashes your credit card to below the zero level. We have collected certain valuable information from reputable web resources that certifies of the fake methods of Instashag.com. Some of them are alike, and some are different, but they nevertheless contribute to the same purpose, proving that this sex dating app is nothing more but a scam.
Authenticity
When you hop in the member's area after registration, the interface looks so promising that you may think that you are in the Ritz Karlton of adult dating sites. Here are the specialties of Instashag.com:
My Profile section made for your personal use:
My Connections – includes the list of your booty calls
Notifications for all communication channels
Mailbox for email messages
Online Now tool
ScoreBoard feature marking member's popularity
XXX Videos section for movies with adult content
Live Cams for links to webcam rooms
Search filters
Why is InstaShag.com a Fake Adult Dating Site
We have collected a series of five reviews elaborating the fraud of this adult dating tool which is a master of hookup scams. We are presenting their key findings below in quotes:
Review Proof #1
Google is the best resource to make an overall overview, and will take you straight to the five top scam-exposing reviews that tell a lot about the fraud performed by Instashag.com. As you can notice below, there isn't a single positive reference to this sex dating site on the net: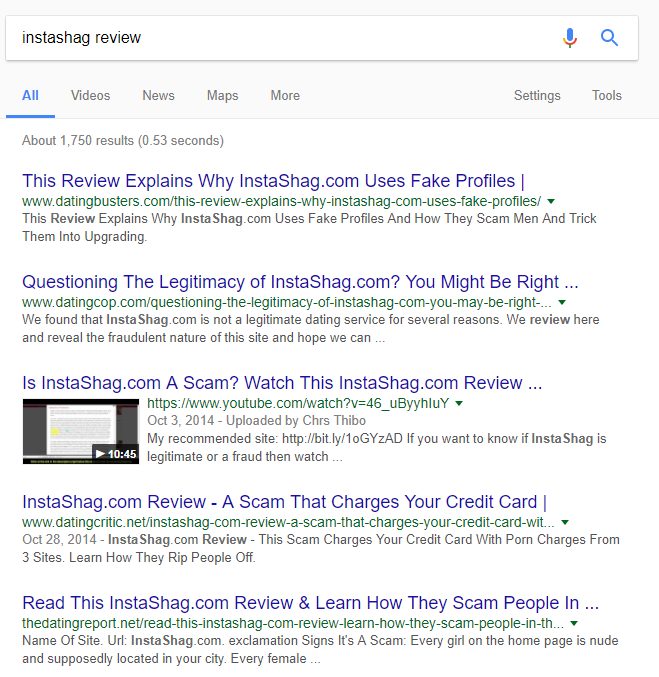 Review Proof #2
Another review proivider reflects on video chats from fake women, immediate fake IMs and the exposed scam in the Terms and Conditions:
Did you receive video chat requests from girls stripping naked love on a webcam? Well guess what, the video you just saw was completely fake as well. These are a pre recorded videos that plays over and over and over again. the females in the chat videos are not live, and she is not chatting with you. 

InstaShag.com started sending us fake instant messages right away. The illegitimate messages all seem to appear to be coming from hot young girls. After researching we always find out that these profiles are fake and are usually created by the dating site.

To blow the whole scam wide open is the terms page where you can find all the incriminating evidence you want. You will this site confess to fake profiles, phony emails and fraudulent instant messages.
Review Proof #3
Almost the same opinion is provided by the second choice of reviewer:
"The 100% free dating for lifetime is a hoax and InstaShag.com is not really free

You get automated notifications, email and chat messages

Women's profiles are fabricated to deceive real site members

The real people on the site are paid employees or models

You cannot find a date or meet someone you met on InstaShag.com in person"
Review Proof #4
A somewhat different perspective, yet including all critical false claims, fake promises and ads, as well as some extra addiiton to back up the claims is presented in  the following excerpt from the fourth peer review:
⇒ Free Adult Dating That Actually Requires A Credit Card?

⇒ The Site Was Voted #1 Dating Site For 2014

⇒ Illegitimate Profiles

⇒ Fake Video Chat Messages

⇒ Emails That Are Computer Generated

⇒ Phony Chat Messages
Review Proof #5
The fifth proof contains by far the best explained argumentation, including details for specific fake details, as well as in-depth descriptions of the fraudulent tactics which are used on the poor horny users of Instashag.com hungry for online dates that could turn into real sex dating:
Why is it that every single girl on the home page is located near you? It's all a con, what's really happening is that this site uses something called geo targeting to determine your city location…

Why does every girl look like an adult film star? Many of the images used in the female profiles are taken from a variety of places including amateur adult sites, escort sites, social networks etc…  

The images taken from amateur porn sites are used to create fake member profiles. The fictitious member profiles contain not only stolen images (in many cases) but all the information in the profile is fake as well. Everything from age, location and birth date are all phony… 
Price Tag
$2.97 for a 3-day trial membership
$29.95 for a 1-month membership
$74.85 for a 3-month membership
$119.70 for a 6-month membership
Busted or Trusted?
It is obvious that Instashag.com is one massive bogus hookup site that is cooked by Nautell, and that many other reviewers have noticed what is really happening, and what is the catch of luring users into luxurious upgrades for which you get nothing. If you are into instant hookups, why don't you try Instabang and get some decent American banging, instead of a fake UK shagging?