Thanks to the cool London vibe about escort services, agencies in the UK capital proliferate like mushrooms after the rain. Just make one search on the internet and you find thousands of websites about individual escorts. However, girls working alone is only one side of the story. There are plenty of escort agencies who do the commercial stuff and let the girls take care of the other business. Therefore if you think that you can find hundreds of escorts in London you're right. I believe there are thousands. These so-called "great" opportunities also increase the chances of being scammed or ripped off. Let's see what are the chances of getting such treatment in this 100 Escorts review.
100 Escorts Review: Empty and Duplicate Search Filters
There are two types of search filters you can apply to find the girl you like to hire. You can select the location filter or the group type filter. Contrary to other dubious escort agencies in London, this website doesn't use main underground stations or, as the Brits popularly call them, tube stations. 100 Escorts actually uses orientation locations. You will be able to search for girls in North, Central, Eastern, and western London. You can also search for girls with specific characteristics, such as petite girls, busty girls, mature escorts, etc.
Each link takes you to the pictures of the models that are available to provide the service you need. Additionally, you're able to see which of the girls are available for immediate services. These links also display a gallery of profiles with the info about each of the girls.
On 100Escorts.co.uk, You Pay £100 per Hour!
The main point of 100 Escorts is that it advertises itself as a cheap escort agency. Truth be told, this is not a bargain. But it is definitely cheaper than many other escort agencies I've reviewed so far. So if you consider this 100 Escorts review and compare it to exclusive escort directories and agencies, it definitely has an advantage in terms of rates.
You should always keep one thing in mind, though. The service is as good as the money you pay for it. So if you pay less you get less. If you pay more you get more. The problem with escort agencies is that they don't always deliver what they promise. So you may pay high rates and still get nothing. You can risk with a cheap agency and get more.
Overpriced London Escorts
Also, rate-wise is better to rely on what you have arranged with the girl. Girls in the UK work individually and they're allowed to take care of their own business.  If an agency jumps in, there is usually an extra fee or a greater risk of scams. Some of the agencies just display and advertise the girls and are in no way associated with them.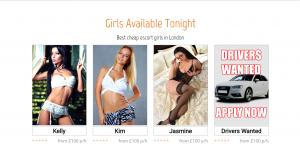 I doubt that all of the photos and the links are real. I tried to search for petite girls and I got no info about that on this webpage. If you ask me some of the pictures might be totally fake. They look like being pulled off from different stock photos websites. That's one more reason why I shouldn't trust 100 escorts, regardless of how tantalizing and cheap are their escorts.
Final Opinion About the 100 Escorts Review
Why you should avoid this website like the plague? I always mention two or three simple reasons. They can, in no way, measure up to free adult dating sites. The majority of escort agencies run a plain-sight prostitution service or just play a game in the digital world having no real girls to hire when things get physical.
That's only one side of the danger coin. The other side includes risks that come from the girls themselves. These girls would do anything to earn some money. You know the usual outcome of messing with paid sex – STDs and other unpleasant pleasure consequences!