I've covered a few granny hookup sites in the past and make no mistake about it, some are real and some are fake. However, most of them are complete rip-offs. Unless you're gullible or a really desperate guy looking to smash anything, then you'll want to avoid most micro niche granny dating sites (like EasyGranny.com and GrannySexPersonals.com). One of the bad ones is Granniehookups.com. I've covered everything you need to know about this site and why people fall for the fake profiles daily.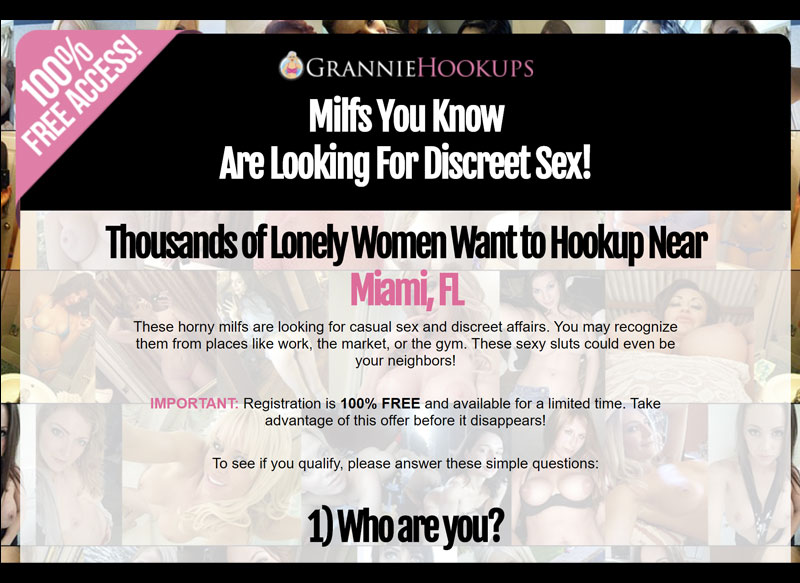 My Review Of GrannieHookups.com
I'll kick this review off by saying that money is a really great thing. You need it to survive. The more you have, the happier you are. You can use it to trade for things you really enjoy. That's why so many people want to take it from you. They want it all for themselves, no matter how hard you worked to get it for yourself. That's exactly the basis behind Grannie Hookups…
This site will stop at nothing to take your money from you. They'll get your credit card information from you and use it however they want. They'll trick you into buying things that you don't need so they can get a cut of the profits.
The site was never designed to help you hook up with anyone. It was only designed to steal your money from you. If you see this site around, just cut a clear path around it.
They Sign You Up For Lots Of Porno
As you sign up for the site, you'll be asked for your credit card information. They tell you that you won't be charged a thing. They just want it on file. That's a lie. They want it so they can sign you up for three different porn sites. It's all in the fine print on the final page. There's a pre-selected option to get yourself a trial to the sites.
The text is tiny and you're meant to completely miss it. It's how a lot of sites run this scam. If you miss it, like you're supposed to, you'll get charged the full monthly fees at the end of the trials.
Then you'll be on the hook for them every single month until you manually cancel them. It's not cheap at all. In fact, it all totals well over a hundred dollars that you could be spending on things like food and shelter.
They Still Lie On The Website
If you somehow manage to catch it and opt-out, they're still going to be scamming you on the site. You'll start getting emails on it right away. It will seem like the women on the site are all about hooking up with you.
The problem is that you won't be able to respond to any of these messages. If you want to do that, you'll have to upgrade your account to premium. This will, once again, cost you a bunch of your money.
Conclusion: Definitely Avoid GrannieHookUps.com
Don't visit GrannieHookups.com and if you do, def don't try to sign up for it. Even if you know about the porn sites, you could still get caught by them. The site just isn't worth it. There are no real women on the site at all. It's filled with nothing but bots. You're never going to talk to anyone and you're never going to hook up.
It's all just one big scam after another. There are plenty of real sites out there that you could be using instead. They'll actually hook you up with real women who want to have a good time. If you're looking for the good sites, then you can find them all right here.