If you are sick and tired of scams using the name Fuckbook, we totally get you. So are we. It seems that there at least three or four Fuckbooks out there, named XXX, Net, Hookup and so on. Now we are looking into FuckbookXXX.com. At this point, it is worth asking the question if this is ever going to end. It is most likely that we will see new Fuckbooks cropping out everywhere. If you encounter the name in another variant, please do let us know because we will investigate it as soon as the work agenda becomes free.
Fuckbook XXX Authenticity In Question
Would you call a website with a name found at least in 4 other versions authentic? The same word in all of them is not very promising. This is what the checkup presented. Our suspicions were confirmed and we collected more than one proof the FuckbookXXX.com is not what it states it is. FuckbookXXX.com works with automated messages from fabricated profiles called "icebreakers", it uses computer-generated messages, it asks for continuous upgrades, and it jeopardizes your privacy. Let us take the tour step by step and uncover how the scam on this adult dating website works.
Why is FuckbookXXX.com a Fraudulent Dating Site
FuckbookXXX.com uses fake profiles.
You must agree to the "Icebreakers" – the fake profiles on FuckbookXXX.com. They come along the Terms and Conditions signature, in the same package. So you will need to get used to them and navigate the site with caution trying to avoid their advances. However, do not expect that they will try to get you to bed. These fake women will try to get into your wallet. look at the screenshot below to notice what you are agreeing to before you venture to FuckbookXXX.com: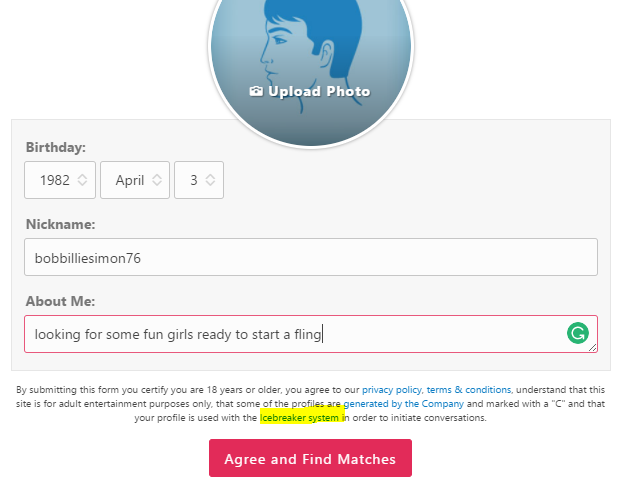 The "Icebreakers" send automated messages.
This is what those messages look like – see below. In less than a minute on the site, there were at least 3 messages from fake girls trying to get an upgrade from us. You will be able to browse the site and search for profiles, but you won't be able to view or reply to these messages.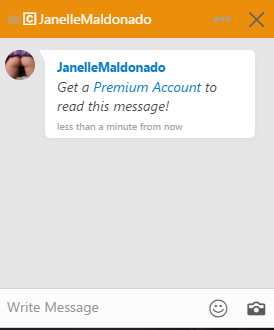 You will get promotional, computer-generated content via email.
This message system works all the time. Even if you are not logged in, you give permission for access to your profile, and permission to get all types of content. Not only will you be abused with annoying commercials, but you must agree to some technical pieces called "executables" which collect your details for business purposes:

You post a "blind" acceptance signature on FuckbookXXX.com.
We call it blind because it looks like you will need to agree with anything. This is because you agree to changes in the T&C document which are not sent by email but simply published at convenience. You are advised to frequently check the website and see what are the new circumstances. It looks like anything can be posted, and anything can be put on the back of those poor customers.

The privacy of your details is non-guaranteed.
If you asked what is the single most valuable asset nowadays many people will go for money. This may be partially true, but it can be in no way compared to your personal details. In the world of online businesses your personal data as almost as valuable as your life. In real life, you can take action in real-time circumstances but what goes online, it stays there forever. Most people are not even aware of the risks they take by agreeing to give their details to everyone and anyone. Just look at how you put yourself into danger at FuckbookXXX.com:

They can even modify your details and make a new person of your data if they wish to – not that this is always viable, but it is possible:

Price Tag
$7.95 a month for 12-month subscription
$14.95 a month for 3-month subscription
$29.95 a month for 1-month subscription
$199.95 for lifetime access
Busted or Trusted
This is a typical adult dating scam that uses most well-known fraudulent methods. By now, you would think that the Fuckbook trick would be dead, but no – the persistence of this scammers is truly remarkable. It seems that there will be no easy way out from online dating for as long as these deceitful providers exist. By following our site content more closely, you will know which are the great sites and which are the Debby-downers. Our conclusion about this site is that it is a rip-off disguised as an ad platform.
Almost all of the other Fuckbook networks pull the same stunt and they're no better than this one here. If you've done your homework on those sites, then you will not make the mistake of joining them. I'd say this here is the biggest copycat and problem that I can relate to this site. Avoid that as well if you're smart.