It gets annoyingly uninteresting to find out new sites about instant hookups that feature the same old scammy techniques, but we are professionals and must keep track with the scammers. FreeHookupSpot.com is not a free site – on the contrary, it is overpriced. You will be able to promptly discover the fact when you register and join, trying to continue using the services. Here are more details about that part of the scrutiny we applied on this fake dating service.
Authenticity
This super-expensive website that may cost you as much as almost $120 a month is definitely way over the top with the prices, regardless of the big promises about exclusive services for members, such as creation of a personal profile, maintaining a friends list, receiving auto-notifications, special email service, xxx movies and webcam service and location search filters. Although this looks like quite a package, it offers the same stuff many others do, particularly those connected to the same company that uses a video with a cute girl enticing you to upgrade. So, whatever the marketing may say – this site is by no means free!
Why is FreeHookupSpot.com a Fake Dating Site
You need to provide credit card details if you want to join.
Why would you need to provide a credit card when the site is for free? Is it really for age verification purposes, as they say it is? Since when is a credit card a proof of age? Anyone can find a card and use it to subscribe to services. This verification procedure looks like a big scam, especially if you look into the small upgrade box which is just checked for an agreement to charge you over 100 dollars per month for extra services.

You will receive automated messages from fake women.
These messages are nothing new for someone who uses many adult dating websites and has encountered a fair share of fake ones. Still, there are some people who fail to see what the scam is and waste their time starting to think that they are talking to real girls. Bots are omnipresent on sites for sex hookups and always introduced with the exact same cruel intention in mind – that is – to make you opt in for an upgrade. This is a surefire sign to stay away from a site for us.
FreeHookupSpot.com uses fake girls called Love Stars.
This is a fact which is actually stated in the site regulations, but being unveiled there doesn't make it any less fraudulent or damaging to user payment instruments. It is highly likely that you will get in touch only with fake women and never get the chance to have sex in real life. No one wants to spend their online life in talking with bots – do you?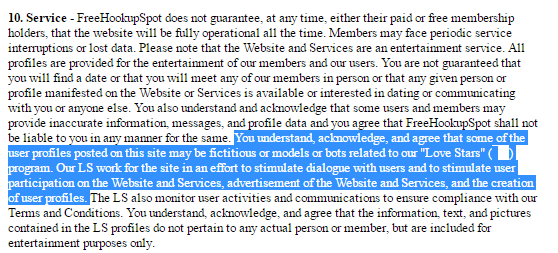 Price Tag
The subscription rates for the basic services and for the extra luxury fees range from $2.97 for a trial version to a $119.70 per month for the full package.
Busted or Trusted
Joining FreeHookupSpot.com is not something the team at Adult Dating Patrol will advise, not now, not ever. We don't think meeting bots presented as real women and getting software-generated messages distributed to many users at once, and for that matter, paying hundreds of dollars for membership is a good choice or a wise decision for getting laid.