Sometimes, illegitimate dating services don't say that they use virtual profiles like cupids or stars in their regulations in that much detail, but they still find a way to enrich the site by using fake images, such as the example with HookupHangout.com. This place is not the ultimate rip-off because it provides some services for free, but they are still not enough for productive casual sex encounters. Most of the services are very limited and you need to upgrade to be able to use the full deal. Let's find out what are your chances of hooking up with someone on this hangout.
Is HookupHangout Authentic? Find Out!
The opening screen looks very decent, and the offer even more so, so that a user may think that there is really plenty of material for fun and exploration. However, the problems start to creep in once you are registered, so not everything is so shiny and free. Here is what HookupHangout.com claims to include in the package:
Checking accuracy of the user information to collect beautiful women
Message security limited to yourself and the chat partner
Claims to be one of the top "completely free" hookup sites
The possibility to find a perfect sex partner quickly
Real singles who want to engage an online meetup
Great user feedback & spam control
Improvement of the services and the products
Contact with the website's team 24/7
Although it looks like a real offer, you will quickly notice there are not any specifics but empty words and sentences just for marketing. On top of everything, the site is not really free, and it uses fake pictures.
Why is HookupHangout.com a Fake Dating Site
You must agree to have your profile available for public searches.
So, let's imagine you try to keep your privacy intact and your encounters discreet. As far as I know, almost everyone likes to keep their online hookups a private matter. You can forget about that possibility with the privacy on HookupHangout.com because your profile is available for public searches – just look at the quote below:
"Your profile and its contents may be searchable by, and you may be able to search for the profiles and their contents of members registered to other websites operated and powered by us, for example, co-branded or privately labeled. Your profile and its contents may be searchable by third-party search engines, for example Google, MSN, etc."
You will get commercial messages through the automated icebreaker system.
There is no way to get rid of these automated messages – you must get "entertained" by icebreakers – software-generated content that is used to keep the site busy and cajole new users into frequent activity and upgrades. This is an excerpt from the site legal documents:
"To improve your chances of success wvw.hookuphangout.com provides you with a free icebreaker messaging service. This feature ensures your profile gets maximum visibility as your matches are automatically sent a personal icebreaker message on your behalf."
HookupHangout.com includes fake images of members.
Just as I signed in and started liking and flirting with profiles as suggested by the site, I decided to check the authenticity of the profiles – I wanted to perform, sort of, a personal verification. Needless to say, the image search failed to provide authentic results. In fact, I found the fake image on several other websites for stock photos in various dimensions:
#1 – Fake Image Google Reverse Search Query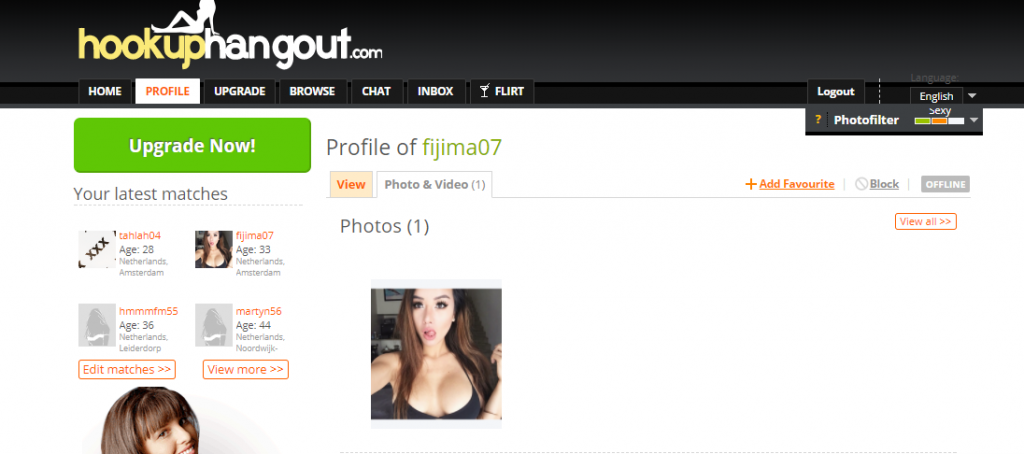 #2 – Fake Image Google Reverse Search Result

The site tries to upsell exclusive services.
As you can see, once you get to the screen for selecting one of the paid packages, it becomes clear that you are dealing with a false free offer, because you actually need to buy priority listings, webcam services and advanced chat options: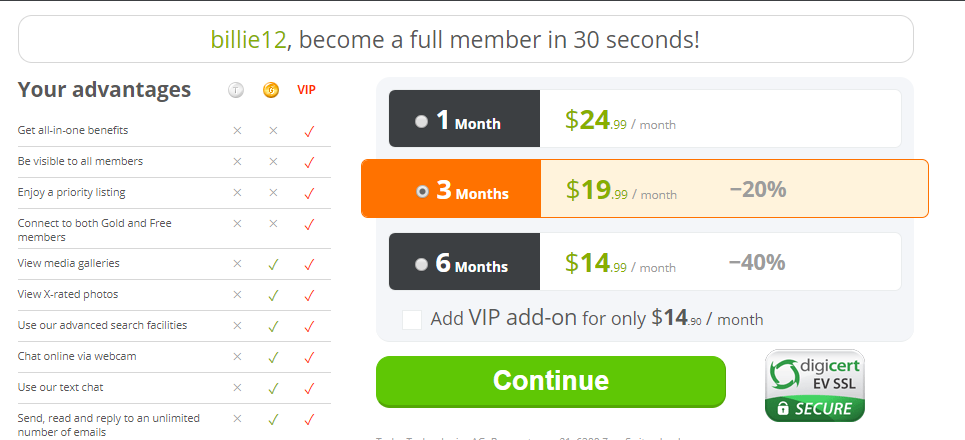 Price Tag
1-month membership is $24.99 per month
3-month membership is $19.99 per month
6-month membership is $14.99 per month
Busted or Trusted
This time, I will leave the final verdict to our users. Personally, I would never join HookupHangout.com, having in mind that its user privacy is zero. Even if I am single and don't have to keeitti discreet and safe, I hate when I find my personal details all over the web. Not only it decreases my hookup chances making me look too available, but it also puts me into danger of having my identity stolen. No – thank you!