Many younger guys are interested in dating an older woman. After all, they are experienced, open and like to have a different kind of fun than younger girls. This is why there are so many adult dating websites open for meeting milfs and cougars. FlirtyCougars.com is right about the cougar type. If you don't know the difference between milfs and cougars, you should read this review and the rest on this site in more detail. Deceptive dating sites use tricks on inexperienced users and get rich. Do you want to serve as a guinea pig? We thought so.
Authenticity
Flirty \Cougars.com has a very promising start but not so promising content in the end. if you throw a look at the sexy redhead on the opening page and the accompanying text, you will think you have landed in cougar heaven. It almost seems like the best cougars on the planet have ended on this adult dating service. However, by digging deep in the registration and the dating process and by assessing the upgrades, the final verdict about Flirty Cougars is one of disappointment. You should not have great expectations about finding a hot date from a website full of computer-generated content.
Why is FlirtyCougars.com a Deceptive Dating Website
Here is our investigation about FlirtyCougars.com and its dishonest tricks.
Flirty\Cougars.com asks for an immediate upgrade.
Just as the rest of the dating sites out there that are promising free hookups and delivering only free registration, the same is the tactic of this dating site for mature women. Here you must choose one of the paid subscriptions to start using the site features. This is what the upgrade screen looks like: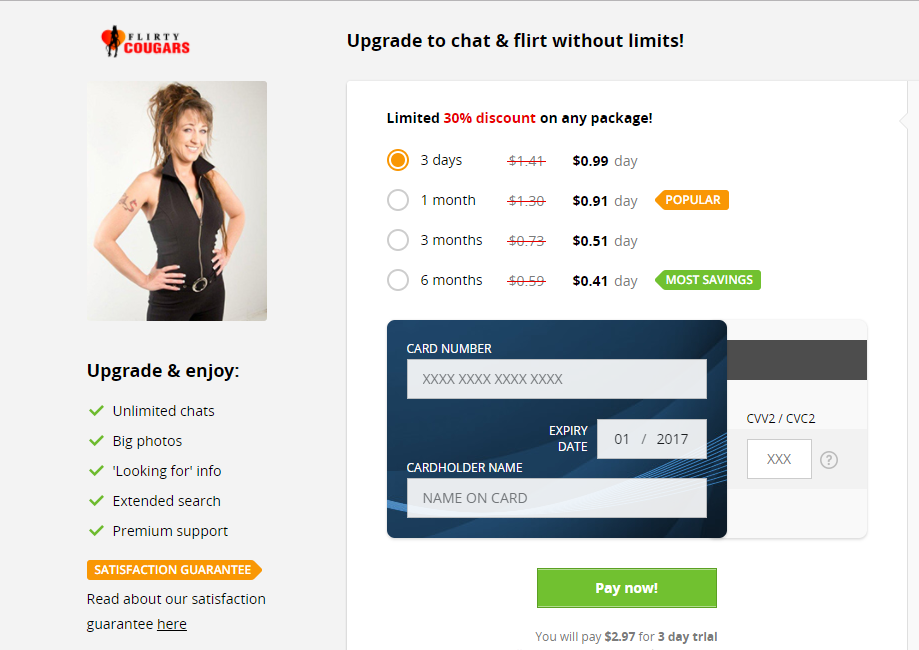 The site uses messages by fake profiles from site admins.
Although this is not the classic method of using fake women, it is almost the same and somehow even more insidious because it is covert. Just after registration, the inbox gets imbued with messages from admins. For example, here is a screenshot of the meeting message that contains encouraging text about finding more than just the right date on FlirtyCougars.com: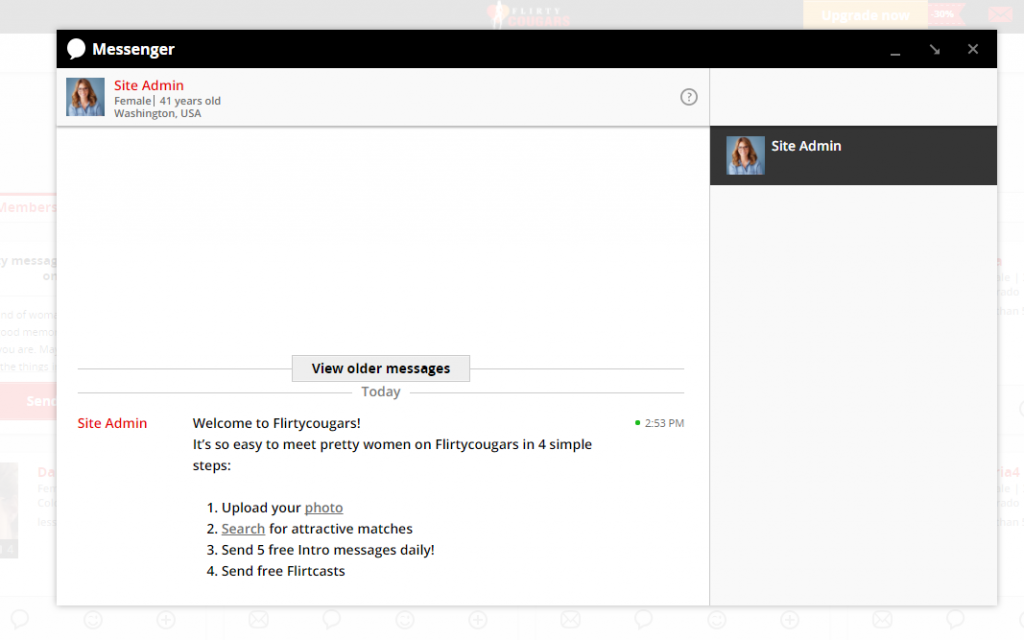 FlirtyCougars.com will let you use custom and will send promoted messages.
Let us inspect what is the purpose of both systems.
The first one "helps you" use custom templates to engage in more active conversation. You may think that this is an excellent opportunity especially if you are not very skilled in inventive online chat, but hang on a minute. All your message templates will be monitored! This is another misuse of people's privacy and not a promising way to guarantee safety and discreet meetups.
The other one serves to bolster member use of the site and is instigated by site admin agents – very alike the example above. However, while the T&C document states that it only uses this occasionally this is untrue. Whenever you try to send a message without a membership, you will be alerted to purchase an upgrade.
Have a look at both provisions in more detail:


Price Tag
The site reserves the right to change fees at any time without prior notices.
The site fees are:
$4.24 for a 3-day trial
$36.41 for a 1-month trial
$61.24 for a 3-month trial
$98.99 for a 6-month trial

Busted or Trusted
FlirtyCougars.com is a deceptive adult dating site because it encourages users into spending almost hundred dollars for fees while monitoring messages and sending automated content. This is certainly not the place to find a hot cougar to date for casual fun. Yet, it is definitely the place where fake cougar look-alikes will pester you to buy an expensive upgrade.