FirstAffair.com is a site designated for people who don't make a big deal of infidelity. Perhaps it is better to say that they are designated for people who don't like getting caught. Even better, it is for those that are in long, boring relationships, and are looking for some great online fun without imposing big obligations to the dating parties.
Why is FirstAffair.com a Genuine Dating Site
We investigated FirstAffair.com and its features, paying special attention to the multiple FAQs that explain what is happening on the site. The service takes care to explain everything in detail. It leaves no stone unturned to think of what you are doing. If you need to find some answer to your question, you must browse through this section. Hopefully. you'll get your knowledge.
Now, let's look into some of the aspects on FirstAffair.com to see how big dating success you can have on this site and whether it is worth exploring it.
One thing is sure, though – you must be a fan of discreet dating to be able to use sites in the niche. The members' area and the lack of fake images bring the visibility up to a notch, certifying there are no fake profiles. Fewer commercials – more credibility, that's the usual turn of events on hookup sites.
Simple and Credible Subscription Process
You will be asked to get some extra details, but the process is not as long and as cumbersome as some other legitimate sites have. On some services, you might need to spend half an hour to complete the full process. Although we do understand that some extra information will be necessary to confirm the credibility, registering that long is really not necessary. In this sense, FirstAffair.com is not too expensive or lengthy and boring.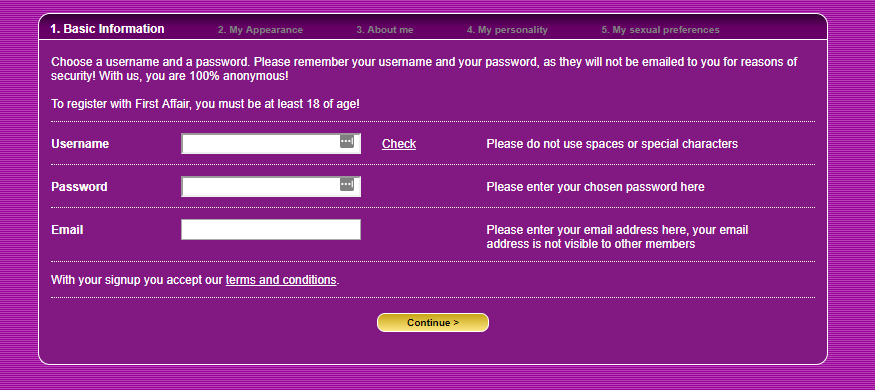 But Watch Out for Staying Behind with Payments
You should be careful with late payments, though. Since you agree to automatic renewals, your installments reach due dates each month or each quarter. The exact date depends on your membership package. If your card is empty or faulty, or if there is any other reason to make a miss with the payments, you will be responsible for bank charges and fines. This is not the type of membership you are looking for or the money you wish to spend on FirstAffair.com. It can be particularly tricky to notice the delays is you are a newbie, therefore, open your eyes!

Price Tag
3-day trial version is $2.97
1-month membership is $39.95
3-month membership is $59.95
Busted or Trusted?
Let's say you do go for a FirstAffair.com membership. You have the chance to test your hookup skills with a basic, simple dating site. If it is not up to your mojo to find a date, you would be left out in the cold. Still, FirstAffair.com really offers a good opportunity to take your dating portfolio up to new levels. Just be cautious about the things we've warned you about!