There is no way around some fraudulent hookup sites if you are only a bit more careful. Paying some attention to how FindMyFling.com tricks its users will save you a lot of troubles down the way. On the other hand, if you just skip through the registration steps, it will be more difficult to notice that the site is fake; not impossible, but difficult. How can you avoid this scam?
Alert:  Don't confuse this website experience with that of Fling.com, which is a top notch site to join.  You can read about it here.
Why is FindMyFling.com a Deceptive Dating Website?
If you want to avoid dating site tricks, you have to recognize them. Unless you have collected some experience from fake services, you will jump into the oven when it's too hot and get severely burned. Such experience can cost you hundreds of dollars, and you'll get nothing in return. Instead of learning the harsh lesson about FindMyFling.com yourself, why don't you read the following paragraphs, which are carefully crafted and packed with the most important information?
Creation of Fantasy Profiles 
Fantasy Profiles are avatars made with fake profiles and connected with computer bots in order to send messages. Although they are fake, they look like real women to inexperienced users. In fact, they can look altogether real to everyone because in the online dating world it's not so easy to recognize what is real and what is fake. You can avoid the scam if you read the opening screen alert. It contains the most important information that you need to know. Have a look at the snapshot below to see how that looks on the screen.
The 'promotional purposes' are emails that look like real instant messages. The point of these IM is to buy upgrades. Since the free registration doesn't allow you to do anything apart from browsing, you will end up buying some and making futile expenses on a site that doesn't really have real women.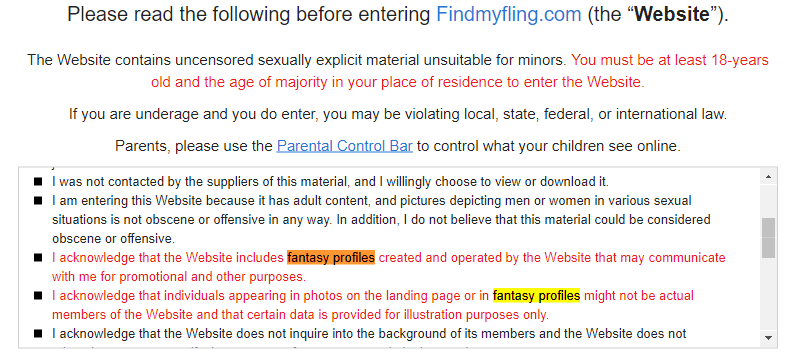 How Real Do These Girls Look to You?
You must agree that they are all hot and sexy. We all know that it's impossible to find so many hot-looking girls on casual hookup sites. The truth is simply that the average population cannot have such distribution of hotties. when you see a gallery that looks like this, the first thought that'll cross your mind is that it is not real. And you will be right: these are just stock photos borrowed from free web galleries or from adult content websites.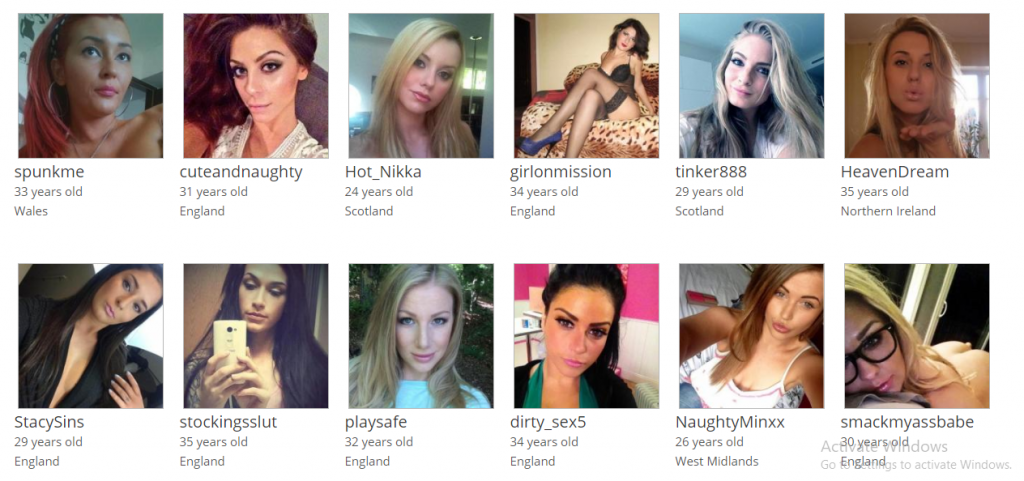 FindMyFling Reviews are Awful in Search Engines
Here is a collection of third-party reviews collected from top results of the most important search engine – Google. As you can see, we are not the only review creators that have noticed the illegitimate works of FindMyFling.com. The search results are overflowing with more reviews like these below. But you won't need a lot of additional conviction once you examine these:
Review No.#1

Review No.#2

Review No.#3

Price Tag
10 credits to send 10 messages that will cost 

£15.

25 credits to send 25 messages that will cost £35
50 credits to send 50 messages that will cost 

£65

.
100 credits to send 100 messages that will cost £120.
200 credits to send 200 messages that will cost 

£200

.
Overall Review of FindMyFling.com
The problem with FindMyFling.com is that the site has a confession of its fraudulent workings. If you give more meaning to this practice and consider it an honest behavior, you can end up in a dead end, with no monthly budget left to have a successful dating life, as well as with time lost on make-believe girls that are created by computers.